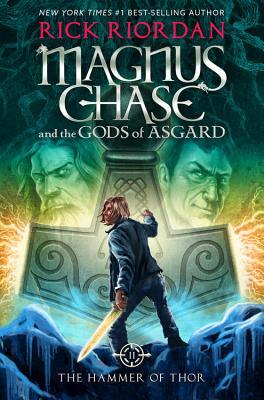 Riordan, Rick. The Hammer of Thor
October 4th 2016 by Disney-Hyperion
Copy provided by Bryce L.
How much do I love Rick Riordan's books? So much. My students do as well. This book lead to my favorite library moment of the year.
I frequently tell students that if they REALLY want a new book, they should ask their parents to buy it but not for them. For the school. Many of my students regularly buy books, especially at Half Price Books or the local WalMart, so this is not an unheard of idea.
Sure enough, Bryce talked his mother into buying a copy, read it, and gets extra bonus points for remembering to bring it to me on a Friday at the very end of the school day so I couldn't possibly give it to another student to read.
I read it on a Sunday afternoon when that was what I really needed to read.
Is this the best book ever? No. Pretty much every plot of these is "Oh, no! We must go do a quest! Along the way, we will have adventures with mythical beings that are perilous and yet funny!" But that's okay.
The books involve mythology. There's just not enough of that. They are hysterically, hysterically funny. Like Sonnenblick, Riordan is a master of the turn of phrase deftly inserted into a page where you least expect it. Riordan also rocks the absurd-- the giant bowling alley and the balls with rock stars air brushed on them will stay with me a long time! I also love how all of the series are subtly woven together-- while I can't wait to see the last book that ties all the characters together, I know that I will blubber so inconsolably that my family will probably need to be warned so they don't think something is really wrong with me.
Riordan has also very carefully included diverse characters and miraculously has not pissed everyone off. Big bonus points for that!
My younger daughter is a huge J.K.Rowling fan, but I have long believed in the inherent superiority of Riordan, and not just because his wife once personally mailed me a Camp Half Blood t shirt and a copy of The Maze of Bones. The man is not a one hit wonder. He has serious middle grade writing chops. He has managed to stay on top of things for over ten years. His new books are always a joy and celebration.
Bacon, Lee. Legendtopia: The Battle for Urth
November 8th 2016 by Delacorte Books for Young Readers
Library copy
Kara and her family have been surviving ever since her electrician father didn't come home one night. When a school field trip to a local mythology themed restaurant goes badly wrong after Kara's ventures into the back areas to retrieve a necklace her father gave her, she ends up with Prince Frederick following her around. There is a portal in his medieval world that connects to Legendtopia, and Kara accidentally opened the door. Not only does she get Fred, but the evil Sorceress also comes through, and she is bent on taking over the world, starting with all of the stores that border on Legendtopia. Can Fred and Kara manage to defeat her, her evil trolls and ogres, and not give away Fred's secret? Well, not in this book. The series has another installment ou
t
June 13th 2017, entitled The Shadow Queen.
Strengths: I can't really fault this book on any technicalities. It had a great plot that held together nicely, a twist I didn't see coming, good characters, funny bits, and lots of things catching on fire and exploding. This author's Joshua Dread (The Nameless Hero, The Dominion Key) series is falling to bits in my library, even though it has hideous covers. Very solid middle grade book.
Weaknesses: This wasn't quite as fresh or funny as the other series. Just felt like the story had been done before, although Legendtopia was certainly a winning idea. Maybe my expectations were just too high.
What I really think: If I have money leftover, I'll buy a copy.
Flanagan, John. The Battle of Hackham Heath (The Early Years #2)
November 29th 2016 by Philomel Books
Preordered through Amazon.
Yep. In case you missed it, this is out. It is, oddly, all about a battle and stuff leading up to it. It involves a lot of Wargle blood. And eating apples after battles, while covered in said Wargle blood.
Sigh. This was not my favorite, but there are FIVE holds on it right now. My boys are OBSESSED with Flanagan and have been for at least 6 years. They will reread. Younger brothers check out new titles to take home to their brothers in high school. It's kind of ridiculous and sweet at the same time. I usually love Flanagan, but this one had too much Wargle blood.