King, Wesley. OCDaniel
April 12th 2016 by Simon & Schuster/Paula Wiseman Books
E ARC from Edelweiss Above the Treeline
Daniel is an 8th grader, a punter for the football team (which means he is on the bench most of the time), a great admirer of the quirky Raya... and someone given to "zaps"-- incidents when he just feels crazy and can't move on until he performs his rituals. His rituals also keep him up at night, but he tries his best to hide his state of mind from his friend Max as well as his family. When he gets a note from "a fellow star child", he develops a friendship with "Psycho Sara" who was briefly mainstreamed in his school but who suffers from bipolar disorder, anxiety, depression, and a host of other issues. She sees in Daniel someone who will understand, and also someone who can help her solve the mystery of her father's disappearance. She's sure that her mother's boyfriend has killed her father, and the two set out to investigate. Along the way, Daniel learns some coping mechanisms to deal with his OCD, and Sara learns some difficult truths about her own life.
Strengths: Aside from Hesser's 1998 Kissing Doorknobs and Tashjian's 1999 Multiple Choice, I haven't seen much about OCD. I really enjoy King's adventure books (The Vindico Series, Incredible Space Raiders from Space!, and the new Dragons vs. Drones), and he knows his way around a middle grade story.
Weaknesses: This read more like a YA story, i.e. rather slow paced and introspective. The mystery seemed a little improbable for middle school students to solve. This had a very John Green vibe to it, which is great if you like that sort of thing. I don't.
What I really think: May buy to hand to students who ask for John Green's books, which I don't have due to language and content.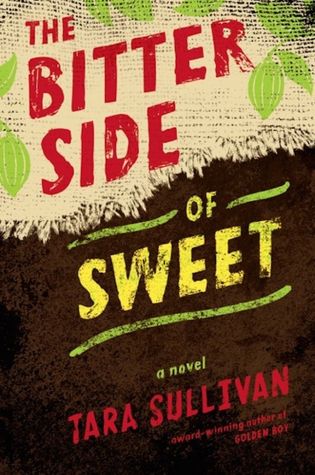 Sullivan, Tara. The Bitter Side of Sweet
February 23rd 2016 by G.P. Putnam's Sons Books for Young Readers
Amadou and Seydou have been sent by their family to work on a cacao farm, but once they are there, they are mistreated and no money is sent to their family. They are regularly beaten for not picking their quota, and Seydou, who is only 8, is badly wounded in an accident. With the help of Khadija, an educated girl from the city who is also brought to the farm, the brothers escape and make it back to Khadija's mother, who is trying to expose the horrors of the chocolate industry. It is because of her that Khadija was kidnapped. Mother and daughter plan to go to France, but since the boys have no papers, they can't leave the country. After learning about fair trade farms, the boys ask to be dropped off at one so that they can work but not be beaten.
Strengths:
If you're looking for multicultural books about children in other countries, this would be a good one. Lots of details about what it is like for a child to be forced to work in the cocoa industry. I liked the humanity that Amadou showed throughout the book, even though being nice to others made things worse for him. The author puts a positive spin on this by informing children about things they can do to help.
This would be a definite purchase for a high school.
https://tarasullivanbooks.com/do-something/
Weaknesses
: Might be hard to find a middle grade audience for this-- there are a few graphic things, but it's the length that may turn children away.
What I really think
: I will buy a copy to support this author and to give to motivated children.
One of the reasons that I buy the vast majority of my clothes and household items at the thrift store is that I am not giving money to companies that produce clothing overseas and may use unfair labor practices. Yes, someone has paid the money to those companies, but my money goes to local concerns and even gives a tiny amount to charity. I also hope that buying things at the thrift store keeps them out of landfills.
If we all did things that are small for us (like making sure our chocolate is fair trade, and recycling), the world would be a better place!