Again, while I hate books where the parents die, sometimes it's done well. Or maybe it's that this is set in Florence, Italy and I'm a sucker for a travel book. Or it has the mother's journal from her study abroad time and I spent a year in Athens, Greece a while ago. (Let's put it this way. If I had had a child because of an indiscretion, that child would now be 30...) Anyway, I loved this one.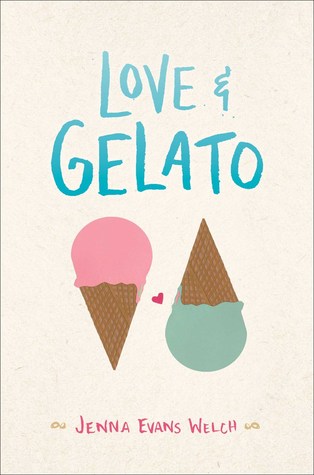 Welch, Jenna Evans. Love and Gelato.
April 12th 2016 by Simon Pulse
E ARC from Edelweiss Above the Treeline
Lina's mother is diagnosed with pancreatic cancer and dies within four months. While Lina is perfectly happy to live with her best friend, her mother and grandmother want her to go to Italy to stay with Howard, a very good friend of her mother's and... Lina's father? It doesn't help that Howard is the caretaker of the American war memorial and cemetery, but Lina is determined to head back to the states as soon as she can. She meets Lorenzo, a half Italian, half American boy her age who usually spends the summer in Texas, and he introduces her to the kids who might be her classmates at the American school. She likes the new people she meets, especially Thomas, a British boy who is model cute. Howard gives her plenty of space, as well as a comfortable room, and his coworker gives her her mother's journal. Lina is a little confused as to how Howard could be her father, and as to why her mother would have kept her from him, so the journal is a helpful link to her mother's thought process. She soon finds secrets that need to be investigated, and Ren helps her with this in between showing her the marvelous sites of Florence and introducing her to the fabulous food. Eventually, she finds out more about her past and is able to make her peace with it, and decides that staying in Italy might not be so bad after all.
Strengths: Lots and lots of descriptions of life in Florence. If I had read this in high school I would have tried my darnedest to get to Italy even sooner than I did! The romance with Ren is sweet, and Howard is a great character. Lina's level of grief is realistic but not overly melancholy, for which I am thankful. I personally loved this book, and I think my readers will enjoy it as well.
Weaknesses: This is on the long side, which might make it better for high school readers, but it is completely middle grade appropriate. It reads a lot like one of the Bloomsbury If Only romances.
What I really think: I wish this had a better cover, but I won't have any trouble hand selling it to my readers who like romances or books with travel to exotic locales.
Wells, Marcia. Eddie Doom at Grant's Tomb (Red Undercover #3)
April 5th 2016 by HMH Books for Young Readers
Read it, enjoyed it, having trouble coming up with coherent thoughts about it. My students love this series, and I think they will be pleased with this one as well.
From Goodreads.com
"
Eddie Red, the NYPD's youngest crime-solving hero, smells trouble. Could he be the target of the elusive art thief Lars Heinrich, whose last robbery he ruined? If so, why won't the police let Eddie help on the case? What are they hiding from him? In the thrilling third installment of the Eddie Red Undercover series, Eddie will need some luck of the Irish as he races against the clock (and bombs and runaway subway cars) to stop what could be one of the greatest heists in history. Companion to
Eddie Red Undercover: Mystery on the Musuem Mile
and
Eddie Red Undercover: Mystery in Mayan Mexico
."