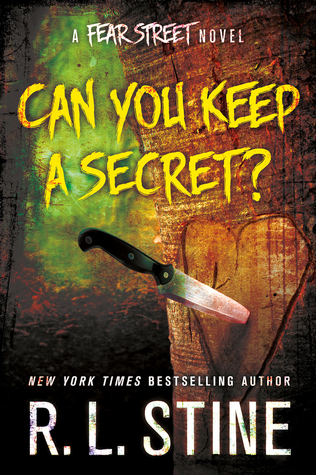 Stine, R.L. Can You Keep a Secret? (Fear Street Relaunch #4)
April 12th 2016 by St. Martin's Griffin
E ARC from Netgalley.com
Emma and Eddie are on a camping trip with their friends. When Eddie finds a suitcase full of money stuck in a tree, they take the case and try not to tell their friends about the money, but they find out anyway. The group buries the case in the pet cemetery where Eddie works, but Riley later steals it and gives it to Roxie to hide. Emma has had odd dreams about werewolves, and when elderly relative Marta arrives from Prague, she tells her that she wasn't bitten by a dog when she was young; it was a wolf. Her mother just didn't want to scare her. Emma is sure that she is a werewolf, especially after Riley is maimed and killed. Eddie and Emma try to figure out who stole the money to begin with, and also to find out whether the man who hid it in the tree has figured out that they stole it-- a pretty good bet, since Eddie had carved their names into the tree where the money was hidden. Eventually, they manage to figure out a lot of things, survive despite the vicious werewolves and really, really gross cemetery scene. There is also a typical Stine twist at the end of the book.
Strengths: Plenty of gross and scary stuff that manages to be completely terrifying because of the way Stine uses paranormal facets like werewolves. Are they real? Probably not. Is there real scary stuff? Yes, but maybe it's not real. Stine is the master of the bait-and-switch, although in his Fear Street books there are a few real murders.
Weaknesses: I don't like the real murders, but my students do.
What I really think: Never my personal favorites, but I'm glad to have new hardcovers for fans instead of the moldering, twenty year old prebound paperback versions!
Singleton, Linda Joy. Kelsey the Spy
April 1st 2016 by Albert Whitman & Company
E ARC from Edelweiss Above the Treeline
In this sequel to The Curious Cat Spy Club and The Mystery of the Zorse's Mask, Kelsey has several mysteries that she is investigating. Her brother keeps running off with a mysterious box in his hands, solving the mystery of a broken grandfather clock leads to a tortoise being handed over to Becca's animal sanctuary, and bringing her spy notebook to school gets her in trouble with the Sparklers when it gets stolen and her secrets are revealed. Leo has a new friend, Frankie, and Kelsey doesn't think that he should be a part of the Curious Cat Spy Club. Her family problems continue as well, even though her mother has a new job, her father is still unemployed. There is a fund raiser for the shelter, and the Sparklers want to do face painting, but that doesn't work out well. Kelsey's dad saves the day with his baking. Kelsey's notebook is finally returned, and she manages to mend things with her friends.
Strengths: This is a nice depiction of a small community, and is realistically done. The animal sanctuary is quite interesting, and the characters all have realistic concerns.
Weaknesses: If Kelsey really is a fan of Harriet the Spy, she should have known better than to even keep a spy book. It does get brought to school by accident, but still.
What I really think: For some reason, none of the Whitman books have Accelerated Reader tests, so it's hard to get readers for them. May pass on this third book.