Clarke, Jane. Posy the Puppy (Dr. Kitty Cat #1)
March 29th 2016 by Scholastic Paperbacks
ARC from Young Adult Books Central and reviewed there
Dr. Kitty Cat and her assistant, Peanut the mouse, are seeing an upswing in the amount of patients showing up to their clinic with minor injuries. It turns out that there is a field day competition, and all of the animals are practicing. When Posy the puppy gets stuck in a tunnel on the agility course, Dr. Kitty is on her way! She and Peanut manage to extricate Posy, but it's unclear why Posy was limping, when she was so bouncy at her well puppy visit the day before. It turns out that Posy is trying to cover up another issue so she doesn't get in trouble, but Dr. Kitty is able to get to the bottom of the problem with the help of her able assistant, and the games can continue.
The illustrations in this book are black and white photos of animals with the additon of purple and white drawings or clothing, backgrounds, etc. This is an unusual and charming illustrative style that is particularly effective, especially since Posy is a very appealing yellow lab puppy with a purple bow in her hair!
What I liked best was the age appropriate medical descriptions. Peanut informs Dr. Kitty that "The first signs of shock are a quick pulse and cold skin", and a detailed description of cleaning and dressing a wound on Clover the bunny's ear is just the right amount of information for young doctors to memorize and try out on their own stuffed animals. There is even a list of what Dr. Kitty has in her medical bag, and how the items are used. The language is straight forward and matter-of-fact. What a great book to give a budding medical professional!
It's also nice that Dr. Kitty and Peanut are respectful of each other, and Posy's reasons for faking a limp are good ones that will serve as a cautionary tale.
Readers who have graduated from I Can Read and Step Into Reading Books and who enjoy animal tales will find that Dr. Kitty to be just what the doctor ordered!
Clarke, Jane. Clover the Bunny (Dr. Kitty Cat #2)
March 29th 2016 by Scholastic Paperbacks
Copy provided by Young Adult Books Central
Even though there is an outbreak of pawpox among her young charges, Dr. Kitty Cat and her assistant Peanut take Pumpkin, Nutmeg and Clover on a long awaited camping trip in the vanbulance. They make sure to bring along lots of first aid supplies, which they need almost immediately. After oohing and aahing over the comforts of the van, the group sets off and Pumpkin almost immediately becomes car sick. There are various bruises and splinters, and eventually Clover the bunny complains that her paws hurt. Could it be pawpox, or has the unfortunate rabbit happened upon a patch of stinging nettles?
While Dr. Kitty Cat probably should have put more effort into preventative measures, I liked how each injury or illness is discussed calmly, and help is given. The end of the book discusses more about the sorts of equipment that are in Dr. Kittycat's bag, and I can see this being a springboard for hours of play with stuffed animals. Peanut is a bit of an alarmist, but considering how calm Dr. Kittycat is in the face of a pawpox epidemic, Peanut is a good addition to the clinic staff!
The illustrations are a charming mix of black and white photos of the animals augmented with cartoon drawings in a pleasing shade of green. The next book in this series features Daisy the Kitten. These are excellent books to include in any early STEM curriculum to encourage children to investigate the field of health care, and provide some clues as to what to do with the medical kits that make such great presents for small children.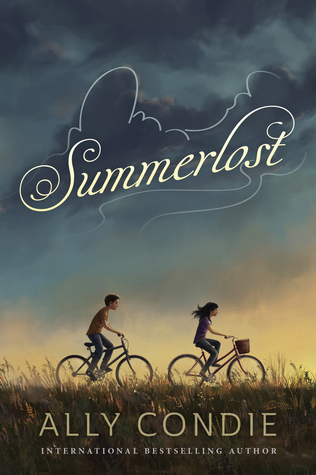 Condie, Ally. Summerlost.
March 29th 2016 by Dutton Books for Young Readers
E ARC from Edelweiss Above the Treeline
Cedar's family is struggling after the car accident that killed her father and special needs brother, Ben. Her mother has decided that buying a house near her grandparents in Iron Creek is a good way to give Cedar and her brother Miles a break from the unrelenting sadness of being back home. Cedar soon meets Leo, who works selling concessions at the Summerlost festival, a summer long celebration of Shakespeare and theater. Cedar also gets a job working there, and helps Leo with his tours about the life of local celebrity Lisette Chamberlain. Leo is running the tours so that he can earn enough money to go see his idol perform in London; his father will only take him if he can earn his own airfare. Cedar enjoys being with Leo, doesn't mind taking care of Miles from time to time (she lets him watch a soap opera on television, to which they both become addicted!), but hates the overwhelming feeling of remembering her brother and father. There is also some mystery surrounding Lisette that the two try to figure out.
Strengths: Very strong sense of place, nicely supportive friends and family, intriguing interests for Cedar and Leo in an unusual locale. Condie's writing will be described as lyrical.
Weaknesses: I just do not have students who are interested in theater, especially Shakespearean theater, but there must be some middle grade readers out there who are.
What I really think: The sadness must stop. Really. It's excruciatingly boring to live through; it's even more excruciatingly boring to read about people grieving. This would have made a perfectly nice book without the incredible downer of Cedar losing her father and brother. In fact, without those parts, it would have been a far more interesting, shorter book. People die. The world would fill up quickly if they didn't. But it's just depressing and boring to read about in middle grade fiction. Authors, stop it.