Abbott, E. F. Nettie and Nellie Crook: Orphan Train Sisters
February 16th 2016 by Feiwel & Friends
E ARC from Edelweiss Above the Treeline
Nettie and Nellie's mother is barely able to take care of them, and their father is often gone. The twins, age 6, try to find food for themselves and their younger brother, but large cities are difficult. A kindly grocer helps them out, but when their parents return, they are even more abusive, so the children are taken to an orphanage. Things are not much better there, but eventually are brought to the attention of the children's aide society and sent out west on an orphan train. There, they are lucky enough to taken by a local grocer and his wife and not separated. The grocer is kindly, and they have a nice room, but Mrs. Chapin is cruel and works them very hard. Eventually, they are removed to another family, the Darrahs, where they are treated much better and end up staying. Based on a true story, this is well-illustrated with period photographs.
Strengths: The biographical information about the sisters at the end is nice, and the photographs add a lot. There is enough information about the historical background that readers will understand how the sisters ended up where they did. A nice introduction to this subject.
Weaknesses:I prefer the Joan Lowery Nixon Orphan Train series, because there is a little more meat to them, with mysteries and more excitement thrown in. This story was too similar to many of the orphan train books I've already read, but readers meeting the topic for the first time won't know this. Will probably purchase.
What I really think: I will be interested to read the Based on a True Story book about Mary Jemison, Sybil Luddington, and John Lincoln Clem. It doesn't hurt to have fresh versions of standard historical characters, and the format of these seems to be attractive.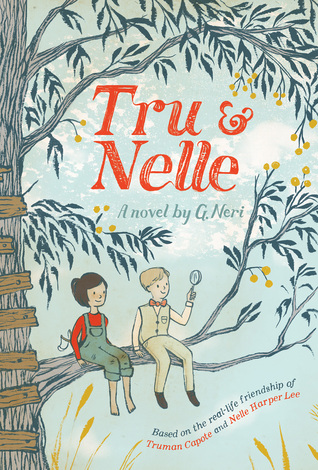 Neri, G. Tru and Nelle: A Novel
March 1st 2016 by HMH Books for Young Readers
E ARC from Netgalley.com
Tru (Truman Capote) is a seven-year-old boy with unreliable parents who is sent to live with aunts in a small Southern town. Nelle (Harper Lee) is six, and has a father who isn't terribly involved, so she is allowed to run about by herself. The two share a love of detective stories, even though Tru is fussy about his clothing, since he danced on riverboats and earned money as an entertainer, and Nelle wears overalls and is usually covered in dirt. The two get involved in all matter of scrapes during the 1930s, especially when they investigate a robbery at the local drugstore. They also have some alarming run ins with the Ku Klux Klan. They enjoy hanging out together until Tru's mother remarries and sends him to a boarding school, but the friends write to each other and later work on some of their projects together.
Strengths: This is very well researched, with lots of period details that make the small Southern town come to life. The addition of photographs of the characters at different ages, and the notes about their lives after the book, are informative. The story moves along at a good pace, and the eccentricities of the characters are described without slowing the story down. Neri clearly has a lot of love for his topic.
Weaknesses: At 336 pages, there is a disconnect between the age of the characters and the intended audience. It's very difficult to get middle schoolers to read about characters who are younger than they are. Just is. High school students, who might have an interest in Harper Lee, will most likely think this is too young, and middle schoolers haven't been introduced to either of these famous authors.
What I really think: It will be very difficult to find readers for this book. I won't be purchasing.