It
's
Marvelous Middle Grade Monday at Ramblings of a Wannabe Scribe
and
What Are You Reading? d
ay
at
Teach Mentor Texts
and
Unleashing Readers.
It's also
Nonfiction Monday
.
Hopkinson, Deborah.
A Bandit's Tale: The Muddled Misdaventures of a Pickpocket.
April 5th 2016 by Knopf Books for Young Readers
Copy provided by the publisher
When Rocco's family falls on hard times, and he doesn't help because he makes some typically bad choices, his family sells him to a padrone who offers to take him to America to earn money. Of course, once he gets to the US, he is kept in squalor and forced to beg for money while playing a triangle on the street corners, which isn't the easiest way to earn a dollar a day in 1887. Soon, he catches the attention of Tony, who runs a gang of his own. Since Rocco has a sweet face, Tony wants to use him to help fleece people, since Rocco can distract them while others pick their pockets. Soon, Rocco is getting his dollar a day easily and eating fairly well, and learning how to steal. When he makes the choice to try to steal a locket from a woman, he is caught and sent to the House of Refuge, where he is at least kept clean and fed, and given a little education. He balks at being imprisoned, however, and breaks out, only to find himself on the streets of New York during the Great Blizzard of 1888. He comes across Mary Hallahan and her father, who has broken his leg, and helps them back home. Soon, he is hired to help Mr. Hallahan, and is enjoying a somewhat stable and pleasant existence. When he offers to help the journalist Jacob Riis, he has to deal with people from his past, and decide how he wants to spend his life in America.
Strengths: Hopkinson always does a fantastic historical novel, full of action and adventure as well as lots of period detail and noteworthy historical characters. Adding in the blizzard is a great touch. This reminded me a bit of Napoli's Mulberry Street (and is set in the same area), and I'm very excited to hand it to students, since they can learn so much from reading historical fiction.
Weaknesses: It is so hard to get students to pick up historical fiction, no matter how hard I sell it. Sigh.
What I really think: Glad to have this book; hope students pick it up!
Sports Illustrated Kids. Baseball Then to Wow!
April 5th 2016 by Sports Illustrated
Copy provided by Blue Slip Media
If you could have only one baseball book, this would be the book to purchase! This is a complete overview of just about every facet of the game of baseball, from uniforms and equipment to players, teams and even ballpark food! While the short and wide format will make this somewhat annoying to have on the shelves, the book won't be there very often, and the size lends itself well to the two page timeline spreads. I loved seeing the progression of uniform styles, ball gloves, umpires uniforms, and even food served at various venues!
I found myself spending a lot of time poring over the different team configurations and bases. I always maintain that teams that didn't exist before I graduated from high school aren't "real teams", but there were excellent descriptions of the extent of the American League and the National League with the years listed for all of the teams as well as any moves that the teams had made. I didn't even know that there was a team called the Tampa Bay Rays! I still don't understand how all of the championships work, but now I know that each league has three divisions. Very helpful!
For the diehard baseball fan, there are plenty of statistics and strategies, as well as brief bios of famous players. For those who like the celebrity aspect of the game, there's even an overview of baseball cards and player's merchandise at the end of the book.
The formatting of this is really excellent. The pictures are clear and plentiful, and the text is clear and easy to read, even if some of it does appear to be in Comic Sans. I might have included an index, but this is clearly a book to be browsed for fun, and not necessarily used for research, even though it packs a ton of information into a few pages.
My only problem is figuring out how much tape to use to reinforce this book-- the paper over board format will not hold up to the extent of use I think this will see!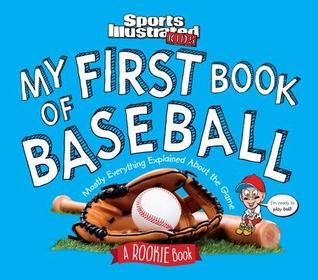 Sports Illustrated Kids. My First Book of Baseball
April 5th 2016 by Sports Illustrated
Copy provided by Blue Slip Media
This bright, beginning reader book is well illustrated with photographs and accompanying large font. It walks the reader through the basics of a baseball game, from the various different positions on the field, to how the game progresses. Terms like home run, ball, and walk are all explained in simple terms, although I'm still not entirely sure what a seventh inning stretch is! The photographs of real baseball players are augmented by our cartoon narrator, who adds some comic relief.
This would be a good book for a child attending a first baseball game, especially if it is being played by an older sibling. The explanations are simple and yet effective, and having the book at the game could be a good diversion when things are unexciting on the field. Parents who actually understand baseball will be able to augment this with further commentary, but those who don't know anything about the game (like me!) will find this to be a good way to introduce the sport to their offspring. I do wish that there had been some girls somewhere in the book, however.