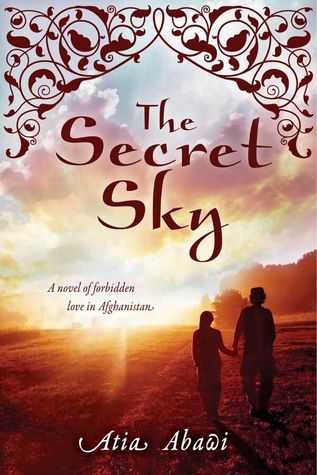 Abawi, Atia. The Secret Sky
September 2nd 2014 by Philomel Books
Fatima is fairly happy helping out at home, visiting her friend Zahro, and learning to read from Zahro's grandmother, who is sad that Afghanistan has moved backwards in women's rights since she was a girl. Zahro knows that she will soon be married off, and focuses on hoping that her husband is not too old and is kind to her. Fatima would like to go to the university, but knows this is unlikely. When her childhood friend, Sami, returns from religious school a drop out, the two reconnect. Always good friends, they find a romantic interest growing on both of their parts. Since she is Hazara and he is Pashtun, their families, while friends, would never agree. Sami's cousin Rashid, bitter over the death of his family at the hands of the Taliban and resentful of Sami, turns the two in to the local authorities. Fatima's father is understanding, but her mother wants her dead. So does the local religious leader, who brutally murders Fatima's three year old sister, the religious leader who marries Sami and Fatima, and finally, Rashid.
Strengths: The details of every day life in several classes of Afghani households are brilliant. The cooking, getting water from a well, the way the house is set up, the way families interact-- brilliant. Adored this part of the book.
Weaknesses: Paints a horribly grim picture of life in Afghanistan. I am sure this is the case in many situations, and is very bad, but I wish that there were some positive images of life in this country. Maybe not positive, but not quite as bloody? Hard to get a balance.
What I really think: I would love to put this in my library, but it is too graphically violent and has too much sexual content for my students. Sending to the high school, but hoping that this author writes a middle grade book set in Afghanistan!