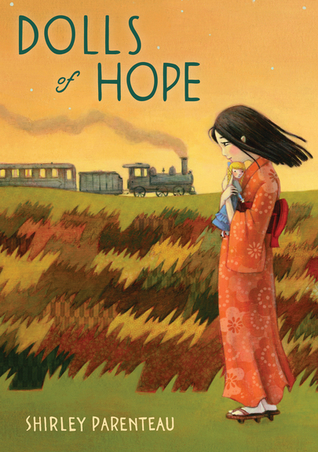 Parenteau, Shirley. Dolls of Hope
September 22nd 2015 by Candlewick Press
In this sequel to Ship of Dolls, we go to Japan, where young Chiyo is very concerned about her older sister going into an arranged marriage in the 1920s. Chiyo is not very ladylike, and barges in on the meeting between her sister, parents, and the prospective groom. She is afraid she has ruined her sister's chances to marry a wealthy man who will take care of her, but Yamada Nori is both wealthy and kind. He arranges for Chiyo to attend a school in the city, so she can meet Hoshi, a general's daughter, and learn to behave the way that she does. Once at the school, Chiyo gets very involved in the project that has sent American dolls to Japanese schools, and helps with the process of sending Japanese dolls to America. Along the way, she learns that Hoshi's behavior is not very admirable, and that while being ladylike is nice, she must also be true to herself.
Strengths: Disclaimer: When my older daughter was an infant, I would walk with her in a front pack to the library, grab a handful of Pearl Buck books, and walk home. I think I read just about every Buck book there was, so I am a sucker for books set in Japan. There are lots of good details about daily like, along with plenty of girl drama. Interesting historical topic as well.
Weaknesses: Nobody describes daily life as good as Buck, and my students are not interested in reading books set in foreign countries, although I love to, so I'm not giving up yet!
What I really think: Sadly, the first book circulates very poorly. I think I will buy a copy because it is a very interesting historical event. On the bright side, the book will last a lot longer!