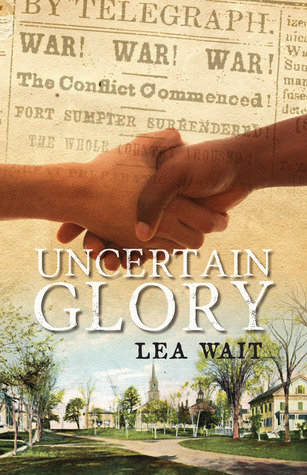 Wait, Lea.
Uncertain Glory.
April 4th 2014 by Islandport Press
Nominated for the Cybils award by Bob Thomas
Copy provided by publisher for Cybils consideration.
Joe Wood has managed, through some luck and lots of hard work, to set up his own newspaper business in the small town of Wiscassett, Maine, in 1861. He owes money to another newspaperman, and if he can't get the money together, he may lose the business. He has help from his best friend, Charlie, whose father runs a local hotel, and from Owen, a nine-year-old African-American boy. Luckily, there are a lot of newsworthy events going on-- Fort Sumter falls, and Nell Grammercy, a young but noted medium shows up in town. Between printing broadsheets of the news and selling them, and picking up printing jobs from Nell's uncle as well as businesses involved in gathering men from the area to send off to the war, Joe is plenty busy. His father, deeply distressed after the drowning death of Joe's brother Ethan, recovers a little when Nell channels Ethan's spirit and tells the father his death was not the father's fault-- instead of then sticking around to help the mother run the general store, the father decides to enlist. When Owen goes missing, Nell is a big help in finding him, and Joe gets to know the girl a bit better, and gets to find out that she has some secrets in her life. With the war effort churning up tempers in the town, life will not soon return to the quiet pace Joe has known.
Strengths
: Nice use of several historical topics, all based on people who actually lived in Maine during this time. The spiritualism movement is always fascinating, and Nell is a realistic and sympathetic character. The role of newspapers in disseminating news during this time is something that modern readers won't quite understand, and the beginnings of the Civil War are well covered, too. Much better cover than others from this press.
Weaknesses
: Joe's voice seemed not quite right for a young newspaperman-- early on, he uses "figgers" and phrases like "write 'em" that seem out of character for someone enamored of the written word. Joe's family dynamic seemed a bit off, too. Still, decent story covering a little discussed period and place.