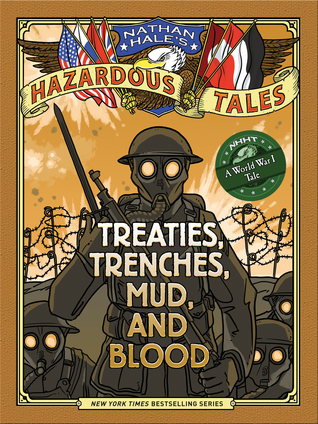 Hale, Nathan.
Treaties, Trenches, Mud and Blood
(Nathan Hale's Hazardous Tales #4)
May 13th 2014 by Harry N. Abrams (Amulet)
In this small format paper-over-board book, World War I gets a graphic novel treatment, narrated by Revolutionary war spy Nathan Hale (which is also the author's name, to be confusing) and the hangman and the provost. The snarky trio decide to depict all the players in the war as animals (Bulldog for the UK, eagle for Germany, a bunny for the US, since the eagle is already used), and describes the events that lead to the war, and then covers the majors developments year by year. Done in shades of reddish brown, there is a lot of information packed into a small book.
Strengths:
Since I have a growing number of readers who will ONLY pick up graphic novel type books, this might be the only way I can get students to do research in five years. The information is quite complete, even if I struggled with the crowded pages and tiny font. I should probably buy the entire series.
Weaknesses
: I picked this up at a book look, and after I read it, I noticed that the pages were not glued to the jacket along the spine at all. This does not bode well for the life of the book once actual students touch it. I will apply liberal amounts of glue to the cover and hope for the best, and also reinforce the spine and corners with tape. Judging from the poor state of
Stickman Odyssey
in my library after just three years, I don't think this title will have a lot of longevity.
This is part of why I am increasingly reluctant to buy graphic novels. I worry that students do no actually read the words, AND most of my collection is more glue and tape than paper.