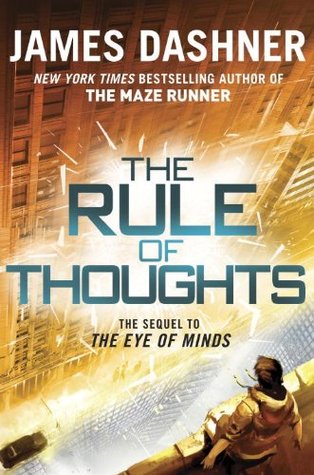 Dashner, James.
The Rule of Thoughts
August 26th 2014 by Delacorte Press
Copy received from Young Adult Books Central and
reviewed there
.
In this sequel to
The Eye of Minds
, Michael wakes up and finds himself in the body of Jackon Porter, put there by Kaine, whose evil plans is to highjack human bodies for the use of tangents, "people" who are sentient but really computer programmed intelligences who lack physical being. Kaine wants Mike to work with him, but Mike is understandably apprehensive about this. He tries to figure out how to use Jackson's body (as well as his parents' financial resources) to find Sarah and Bryson, either in the real world on in the Sleep, and figure out how to fight Kaine. Agent Weber appears many times, but always has a confusing message for Mike. Jackson's girlfriend, Gabby, suspects that all is not right with Jackson, whose face is plastered all over the NewsBops as being a criminal. Once Mike finds Sarah, her parents are kidnapped, and the two hole up trying to locate Bryson. Once they do, they get caught by Kaine, who demands their help OR ELSE. They manage to escape, and embark on more voyages into the Sleep to try to figure out how to best defeat Kaine. They end up changing things in the Wake and getting into big trouble. The adventure continues in the fall of 2015 with
The Game of Lives
.
Strengths
: Lots of action and adventure, lots of working in the virtual world, and of course, young people who are the only ones who can save the world from destruction. This is a great book for a wide variety of readers, especially those who are great fans of The Maze Runner series.
Weaknesses
: Sometimes the action overshadows the plot. For example, when they escape from Kaine (after he said "work with me or I will kill you AND
your little dog, too
Sarah's parents"), why didn't he just, you know, kill them? It seemed like he had the power and was serious about the threat, but of course the book would have stopped there! Students will love all of the video game details, but it was not really my favorite thing to read personally.