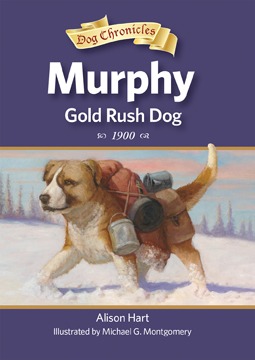 Hart, Alison. Murphy: Gold Rush Dog
October 2014 by Peachtree Publishers
Copy received from Young Adult Books Central and
reviewed there
.
Murphy is owned by the evil Carrick, who overworks the dog and doesn't feed him enough. When Carrick's group arrives in Nome, Murphy runs off and tries to survive on the beach. Eventually, he sees new people getting off a ship, and identifies a young girl, Sally, and her mother as likely candidates to take care of him. Since Sally and her mother are on their own, they soon find that having a large dog is good for their safety. The mother has a typewriter, and is planning on earning her living typing up accounts and letters for the people in Nome. She and Sally live in a tent and try to remain as respectable as they can. Sally is bound and determined not to return to her grandmother in San Francisco and hopes to find gold, but things are difficult, and her mother soon books passage back. Sally, with Murphy in tow, runs off to pan gold on her claim. Eventually, she finds a nugget and heads back to Nome, only to run into a snowstorm, as well as Carrick. Luckily, she receives help from other miners, and is saved by the appearance of her grandfather, who helps her work out the legal details of the ownership of Murphy as well as her claim.
Strengths:
There is a lot of good information about the Gold Rush in Alaska in the early 1900s, including notes at the back and a small bibliography. Sally is a feisty young woman, and her determination to stay in Alaska is refreshing. The story is told from Murphy's point of view, but still includes much of what Sally is feeling. This is a good choice for readers who like adventure stories, or books like Klimo's
Dog Diaries
.
Weaknesses
: While younger readers will think this a plausible adventure, I knew that Sally would be dead before she got more than five miles from the city, Murphy or no Murphy. In the pictures (which really don't add much to the story), she looks about ten. Still, a decent historical adventure.