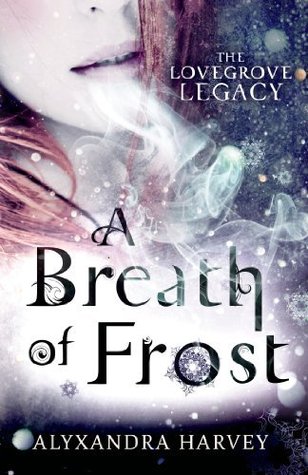 Harvey, Alyxandra.
A Breath of Frost.
January 2nd 2014 by Bloomsbury USA Childrens
In 1814 London, Emma isn't thrilled about "coming out", but at least she has her cousins Gretchen and Penelope to keep her company. When their first ball ends in a fire and the death of a girl, the three learn secrets about their family. Emma is a witch, and the scent bottle from her mother (who is kept at the country home because she is mad) which has gotten broken has released the Graymalkin sisters and opened a gate to the Underworld! Cormac, a Keeper with the Order of the Iron Nail, is assigned to watch Emma and keep her safe... and the rest of the world safe from her! Eventually, Emma is enrolled in Rowanstone Academy, a school to train young witches to fight that is masquerading as a finishing school. When Emma sprouts antlers, she learns even more secrets about her mother, her father, and her connection to the Graymalkin sisters, and works with Cormac and her cousins to try to figure out why so many young witches in London are being murdered.
Strengths
: I liked Emma, Gretchen, and Penelope, and thought the romance with Cormac was a nice touch. I don't want to give away too much of the plot, since there are some nice twists, but this was a good paranormal story from Harvey, whose Hearts at Stake series and Haunting Violet do very well at my school. Pretty covers, too!
Weaknesses
: Very long and rather convoluted. There was a lot of action that seemed to slow down the plot rather than advance it.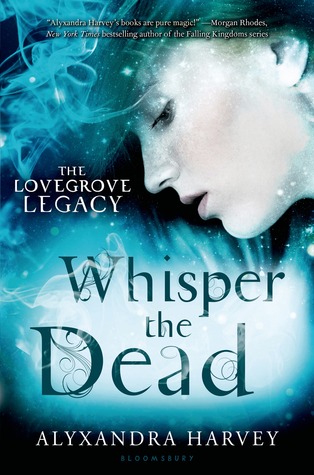 Harvey, Alyxandra.
Whisper the Dead
October 7th 2014 by Bloomsbury USA Childrens
This book focuses more on Gretchen and her Keeper, Tobias, and includes more information about Moira, a Madcap witch who lives on the streets and frequents the Goblin Market. Gretchen is very concerned about her twin brother, Godric, who deals with the fact that he can see ghosts by drinking too much. It doesn't help that it's hard enough for her to deal with being a Whisperer-- she can hear the voices of those who went before, and hear the spells that they cast, which helps her to formulate spells of her own. While the Graymalkin sisters have been bottled and the door to the underworld has been closed, there are indication that there are forces of evil leaking through. The person responsible for the murders in the previous book (and I don't want to ruin that!) is loose, and the graves of those girls are being robbed. Penelope is courted by Lord Lucius, who turns out to be more evil than she could suspect, and Gretch finds out some interesting information about Tobias' family, and it's a good thing she's okay with it, since the two have a romance going on. Before long, the Order has bound Emma's magic, which is not a good idea because the Graymalkin sisters are not going to stay bound for long!
Strengths
: I liked that this book switched its focus to Gretchen, so we could see things from her perspective and investigate her own magical qualities. The romance with Tobias is a bit different as well, and I imagine the third book (whose title I can't find yet) will concern itself more with Penelope.
Weaknesses
: Again, a lot going on, and a little hard to follow, no doubt because this is more Young Adult and I spend most of my time reading sports books meant for ten year old boys!