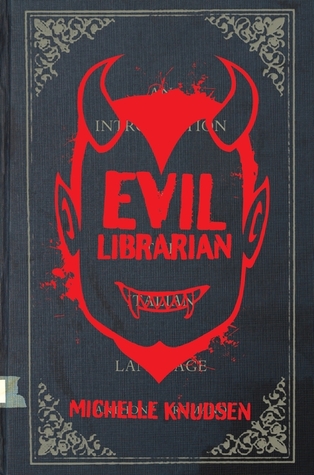 Knudsen, Michelle.
Evil Librarian
September 9th 2014 by Candlewick Press
Copy received from Isobel Brown at publisher.
Completely hysterical. NOT for MY middle school library.
Cynthia's best friend Annie is smitten with the new, hot librarian, Mr. Gabriel, But Cynthia gets a weird vibe from him... because he's a demon. He wants to make Annie his bride and suck out the souls of everyone in the high school, and Cynthia is not about to let him. With the help of her crush, Ryan, the two consult the adults they think can help-- their Italian teacher, who ends up being killed, and the owner of an occult bookstore who gives them good advice but has his own demon-related agenda. They come up with a workable plan, but fighting demons isn't really covered in the curriculum, and when the new principal and a bunch of substitutes also turn out to be demons that have found the high school to be a handy portal into our world, will Ryan and Cynthia be able to fight them all?
Strengths:
Clearly, Ms. Knudsen knows her library humor, but what I liked best was Cynthia's obsession with Ryan. She knows it's wrong; she doesn't need a guy; but she can't stop herself. Lived
that
! Their shared interest brings them closer, and I loved how they both came to respect each other. Predict this will be wildly popular in our high school library, where I am sending this one. Sadly.
Weaknesses:
The first f-bomb was used under mitigating circumstances. The second... okay. But at one point they were just being dropped everywhere. Add to this a lot of demon violence AND Cynthia giving us a bit too much information about her, um, feelings for Ryan, as well as the bookstore owner's.. passion for the female demon, and I would not be comfortable if 6th graders ended up with this in their hands.
This is a shame, since a few editing choices COULD have rendered this just as enjoyable AND ALSO suitable for younger students.