When
Phoebe
was pitched to me, I was very skeptical, especially when I found out the orginal title was something to do with "Heavenly Nostrils". Ms. Barkes assured me that this was, in fact, hysterical, and I must admit that I did nearly snort tea out of my own nostrils when I read the lines "I need you to SHINE. I brought some glitter and "Crisco"...", just proving the point that occasionally, you need to step out of your comfort zone and read different types of books!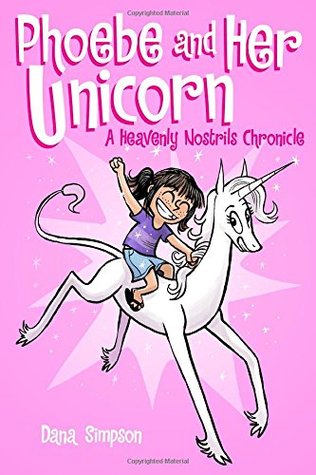 Simpson, Dana.
Phoebe and Her Unicorn
September 2nd 2014 by Andrews McMeel Publishing
Copy received from Shelly Barkes at Andrews McMeel
Phoebe accidentally smacks Marigold Heavenly Nostrils in the head with a rock while she is skipping it across a woodland pond, and Marigold grants her one wish. After an abortive attempt to obtain infinite wishes or infinite money, Phoebe settles for Marigold being her friend. The two have any number of adventures, from a run in with mean girl Dakota (that ends with Dakota being bald!) to Phoebe's struggles with praticing piano, to meeting Phoebe's parents (accomplished by means of lowering the Shield of Boringness that Marigold uses to obscure her presence). The full color pictures are appealing, and Phoebe does have a delightfully snarky sense of humor that will resonate with tweens. My students are so enthralled with graphic novels that even the boys will pick up this pink cover with a magical unicorn and silver glitter letters. I especially liked that even though this book seems to be
comprised of various comic strips, it
had almost as much plot development as that other graphic novel favorite,
Smile
.
Sometimes, there are covers so intriguing that I have to read them. "In space no one can hear you flap"? Either going to be awesomely good or horrendously hideous.
Courtenay, L. A.
Space Penguins: Galaxy Race
June 1st 2013 by Stripes Publishing
E ARC from Netgalley.com
From the Publisher:
"
Galaxy Race! Rocky's reputation for death-defying aerial acrobatics gains him an invitation to participate in the galaxy's notorious Superchase Space Race. But will this turn out to be a race to the death?"
Going with the elementary side of the Pilkey line on this one. The interior pictures are more cartoon in nature, and the names of the penguins are beyond goofy. Would middle school students read this? Probably. But I don't think I can bring myself to buy it and purposefully give it to them.
That said, I had an 8th graders ask me for Zombiekins the other day. Sigh.
Definitely a "yes" to
Phoebe
but a "no" to
Space Penguins
.
I have a weird job.