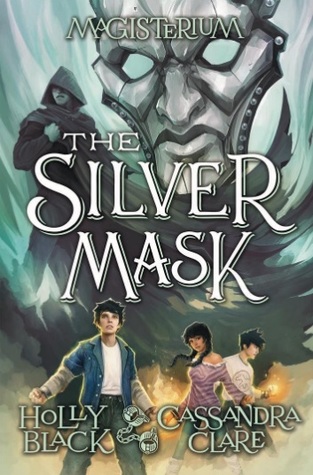 Black, Holly and Clare, Cassandra.
The Silver Mask (Magisterium #4)
October 10th 2017 by Scholastic Press
Library copy
Call is in the Panopticon prison after the death of Aaron in
The Bronze Key
, and since he has the soul of the Enemy of Death within him, he doubts if he will ever be freed. When Anastasia breaks him out and he ends up at her house with his friends Tamara and Jasper as well as Master Joseph and Alex, he knows that there's just no way things are going to end well. Sure enough, Master Joseph wants Call and Alex to bring Aaron back to life so that he can use this skill to take over the world. Call doesn't want to, but there is really no other choice. Using what he has learned at the Magisterium, as well as some journal's belonging to the Maddens, he manages to bring Aaron back, but he's not quite right. Even though Call managed to bring him back without being Chaos ridden, Aaron does not return to his old self. Master Joseph tries to get Alex to bring Drew back, and the struggle continues between the teachers at the Magisterium and the evil forces headed up by Master Joseph. Call survives this book, but how will the fifth and final book deal with the various forces at work?
Strengths
: This well-designed fantasy adventure has a fresh twist on children fighting the forces of evil. There's a little bit of romance, and a lot of humor. I especially loved it when Call was in Constantine Madden's room, expected to wear his clothes, and he makes the observation that "He did not want to wear the Underoos of an Evil Overlord."!
Weaknesses
: Like many books this far into a series, the middle bit got a bit confusing while all of the various threads were being woven into the plot. I imagine that the last book will be a bit tighter and exciting!
What I really think
: This is a really great fantasy series. Enough facets of Harry Potter to make die hard fantasy fans happy, but short enough to be a good introduction to the genre to the more casual reader. A must for any middle school library.
Bachang, Tianxia.
The City of Sand
Published November 21st 2017 by Delacorte Press
Copy received from the publisher
From Goodreads:
A multimillion-copy bestseller in China—now available in English! In this heart-pounding adventure, a group of individuals who have come together for an expedition, each with a specific interest, soon find themselves motivated by one common goal: the sheer will to survive.
THE QUEST: To find the lost city of Jingjue, a once-glorious kingdom, along with the burial chamber of its mysterious queen. Both lie buried under the golden dunes of the desert, where fierce sandstorms and blazing heat show no mercy.
THE TEAM: Teenagers Tianyi, who has the ability read the earth and sky through feng shui, and Kai, Tianyi's best friend and confidant; Julie, a wealthy American whose father vanished on the same trek a year ago; Professor Chen, who wants to fulfill a lifelong dream; and Asat Amat, a local guide gifted in desert survival.
THE OBSTACLES: Lethal creatures of the desert and an evil force that wants to entomb the explorers under the unforgiving sands of China's Taklimakan Desert forever.
I'm glad I'm not alone on this one. It's fantastic to get books translated from their original language to English so we can learn more about other countries, and I was hoping that this one would have some good details about daily life and the Chinese landscape, like Zhang's
The Emperor's Riddle
. Instead, it's a rather standard fantasy about tomb robbers with rather unsympathetic characters. I loved this brilliant comment by Josie: "If I'm so bored with a novel that I start hoping the main character will be brutally maimed to liven things up a bit, that's your brilliant indication that I'm not enthusiastic about what I'm reading." I'm going to hand this to one of my readers who goes through 2-3 fantasy books a day, so as an 8th grader really has read just about all of my fantasy books, but I'm not going to put it in the collection. An inordinately large portion of the books that look brand new but have never circulated are fantasy books that are just half a bubble off. I'll see what the 8th grader thinks.