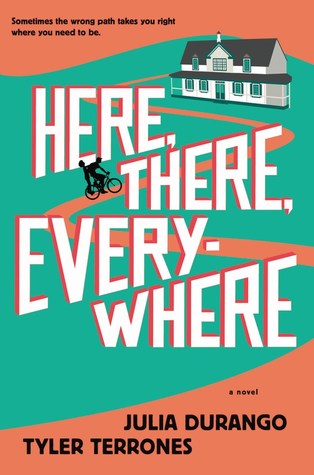 Durango, Julia and Terrones, Tyler.
Here, There, Everywhere.
December 19th 2017 by HarperTeen
E ARC from Edelweiss Above the Treeline
Zeus (Jesus Bjorn Gunderson) has been moved with his young brother Manny (Grub)from Chicago to the small town of Buffalo Falls. His mother has a vegetarian cafe that's she's trying to make successful, and one of her summer specials is free delivery between 11 and 2. Guess who gets to deliver? Because the family is struggling financially, and the town is small, Zeus goes everywhere on his bike, including the local old folks home on the top of a hill. While delivering there, his younger brother takes a liking to a gentleman who fought in WWII and still inhabits that world in his mind, and Zeus meets Rose, the daughter of a nurse who plays piano for the residents. The two hit it off and start to date, and Zeus becomes interested in the older residents and their quirks. He manages to make some new friends in town and even puts together a band. Things aren't easy with Rose-- she wants to go to an art school in New York, and if his mother's restaurant fails, Zeus might have to move back to Chicago. When mementos are stolen from residents of the memory care unit, Zeus steps in to solve the mystery, and life just goes on in a pleasant, if sometimes sad, fashion.
Strengths
: I really enjoyed this one. It reminded me a bit of Hautman's
Slider
, in that Zeus is taking care of a younger brother while going about his normal life and having a pleasant romance. There's a lot of kissing, but nothing more described, and it's just very sweet. I liked that the family was struggling but working hard toward a long held dream. Zeus was a typically clueless teen boy who wasn't sure what he wanted out of life. Also slightly reminiscent of
Drums, Girls and Dangerous Pie
, with the nursing home connection.
Weaknesses
: Two completely random f-bombs, one uttered by one of the residents. I may just white those out, I liked this so much, but WHY?????
What I really think
: We need so many more realistic, fun books for older teen boys, and this was perfect.