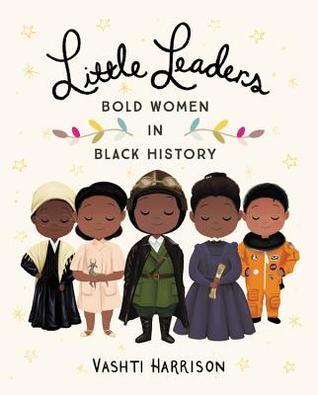 Harrison, Vashti. Little Leaders: Bold Women in Black History.
December 5th 2017 by Little, Brown Young Readers
Copy received from publisher
Arranged in order of when the women were born, this book gives a good summary of forty women in a variety of fields, accompanied by an attractive illustration. I found it interesting that the project started with these illustrations being created for social media during Black History Month. It was nice that some of the women were ones that many students would have heard about, but others were more obscure. The summaries include just enough information to be read as a bedtime story or to a school class, and will pique readers' interest in finding out more information about these women of achievement. I enjoyed this a lot, and have only two minor quibbles-- the downcast eyes on the illustrations don't really say "bold" to me, and the bibliography is lacking. A list of sources consulted would have helped when readers wanted more information.
Townsend, Jessica.
The Trials of Morrigan Crow (Nevermoor #1)
October 31st 2017 by Little, Brown Books for Young Readers
Copy provided by the publisher
Morrigan Crow has a miserable existence in Greater Jalfax, with a cold, uncaring politician father, a stepmother who ignores her, and a curse upon her head that not only makes her suspect when anything at all goes wrong in the town, but also will lead to her death before she turns 12. Her last public appearance with her father is odd. Other children get tapped for apprenticeships, but cursed children don't. The fact that she is given notes for several is just a cruel joke, so she brushes off the application From Jupiter North for the Wundrous Society. When Eventide comes, she and her family are preparing for her death when North appears and whisks her off to another world to reside in the Hotel Deucalion. The rules are different here, and in order to be accepted by the Wundrous Society, Morrigan must pass four trials. With the help of Jack, North's nephew, Morrigan does her best. Even if she is accepted with no knack whatsoever, what will the future hold for her? Is she really beyond the reach of the sinister forces of her world, and what is her role in the new one?
Strengths
: The author has successfully parsed the attractive elements of Harry Potter. Maligned protagonist in search of welcoming community. Trials to undergo. Quirky fantasy world with interesting methods of transportation and novel foods. Morrigan is a bit unsure of herself and what her place in the world is, but is just relieved that she no longer lives under
the stairs
a horrible curse.
Weaknesses
: This comes in at 640 pages, and is the start of a series. Oof. The cover could be a lot better. Also, I could have used more explanation of the two worlds and why they aren't well known to each other. Plus more information about why Morrigan was cursed and what Eventide really was.
What I really think
: Not my cup of tea, but I can see this appealing to readers of weighty fantasy tomes like Bell's
The Crooked Sixpence
and Black's
The Iron Trial.