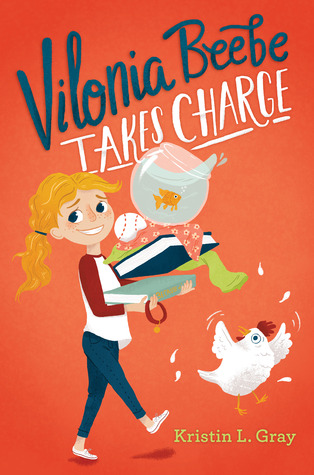 Gray, Kristin. Vilonia Beebe Takes Charge
March 7th 2017 by Paula Wiseman Books
E ARC provided by Edelweiss Above the Treeline
Vilonia's grandmother died over a month ago, and she still misses her. Vilonia's mother is so depressed that she can barely get out of bed, and she is neglecting her job, which is to write obituaries for the local news paper. After reading that animals can help with depression, and realizing that the family chickens aren't quite as helpful as dogs, Vilonia offers to babysit her teacher's fish, and then is determined to get a puppy. There's a lot going on-- Miss Bettina, the newspaper editor, must be appeased, the chickens must be kept out of traffic, there's softball to be played, and a Catfish Festival to attend. Can Vilonia juggle everything and improve her mother's mood?
Strengths: This had its moments, and it was good to see Vilonia thinking about others and trying to improve things for her family despite her own sadness. The different pets were a nice touch, and the characters were well developed.
Weaknesses: Between the Mississippi setting and the irresponsible grief of the mother, this wasn't one I personally enjoyed.
What I really think: I can see this being very successful in elementary and some middle school libraries-- the cover is intriguing and colorful, and the story mostly upbeat.