Nolen, Jerdine. Calico Girl
February 14th 2017 by Simon & Schuster/Paula Wiseman
E ARC from Edelweiss Above the Treeline
Callie's father Hampton is the son of a plantation owner and a slave, so while her father is free, the rest of her family occupies a tenuous place in society in 1861. Hampton's sister, Catherine, is now in charge of the family's land and possessions, and is being told to sell slaves further into the south so that the money can be used for the war effort as well as to feed her own family. Callie's half brothers are to be sold, but Hampton manages to get them all taken to a fort and put under protection of the forces from the North. While there, Callie meets Mary K. Pearce and starts to get an education, and is offered a position in a school further North. Told from alternating perspectives of different members of the family, we get a feel for what it was like to have been a slave, and then to experience freedom during this difficult time in US history.
Strengths:
It was very interesting to me that Ms. Nolen felt compelled to write in the preface that while she was not allowed to discuss slavery in her family, she was very intrigued by it. I have seen this phenomenon when our 8th graders study the Civil Rights movement-- there are always some parents who don't want to hear "negative things". In this well-researched novel (I appreciated the timeline at the beginning of the story, the notes and bibliography, as well as the inclusion of an actual but little known historical figure), Nolen doesn't shy away from the difficult aspects of slavery, but concentrates on the more positive things, such as family loyalty and love, as well as the eventual freedom of the characters.
Weaknesses:
While the premise of the book is a good one, the language is very stilted, and it is very slow paced.
What I really think
: I understand what Nolen was trying to do, but her background in picture books is evident. For a successful middle grade novel, the philosophical pondering about family and place in the universe need to be offset by more adventure and excitement. This might be a more successful book for elementary students who need an introduction to slavery during the time of the Civil War.
I love Ally Carter's work. Really. But Grace is seriously annoying, and I just want to slap her for most of the book. She is forever going off half cocked and is then surprised when things don't end well. Also, she was offered a pretty good alternative to Alexei. I'm one of those people who think that Princess Diana would have been better off if she had stayed with Prince Charles. If she really wanted to get back at Camilla, she would have stayed married and never let her come to light! Anyway, teens and tweens don't have these objections to the series.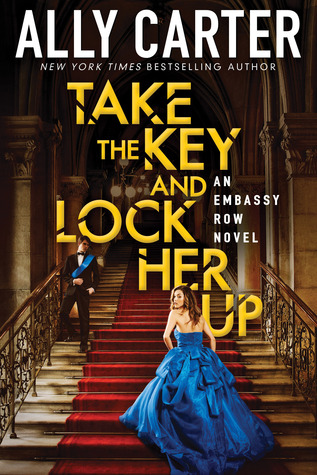 Carter, Ally.
Take the Key and Lock Her Up
December 27th 2016 by Scholastic Press
Copy provided by
Young Adult Books Central
After Jamie is badly injured and Alexei is accused on murder in
See How They Run (Embassy Row #2),
Grace is hiding out with them in a remote woods in the US. When a place lands near them, they panic with good reason-- the Prime Minister is there to try to get Grace to come back. She doesn't, and the three are on the run again. As long as Grace and Jamie, descendents of the deposed family of the princess Amelia, are alive, they will be hunted down to assure the stability of Adria. Grace is tired of running, so thinks it's a good idea to hunt down the PM and see what she has to say. She is drugged in a park in DC and flown to Paris, where she meets with the Society but manages to escape. She eventually meets up with Alexei, and the two try to figure out a way to survive. Eventually, Grace tells everyone her brother is dead, and ultimately lands in an unusual situation that she is told her mother helped create.Will she bow down to the demands of the Society, or will she come up with a solution on her own?
This satisfying conclusion to the Embassy Row series addresses many of the loose ends. Grace manages to reconnect with her mother, find out more information about the Society, and also learns more about Alexei's past as well as the history of Adria.
The best part of these books is always traveling around Europe with a hot guy, not worrying about funding or travel arrangements. Even though her life is supposedly in jeopardy, you have to envy Grace her ease of travel. It helps to have well connected friends!
I do love that when the Society tries to derail her plans, they at least offer up Thomas to replace Alexei. Teens will agree with Grace's choice and root for her to return to her one true love, but I thought that Thomas had a lot to recommend him!
Readers of Benway's
Also Known As
, Monaghan's
A Girl Named Digit
, and Lee's
A Spy in the House
who want to hone their international espionage skills will definitely want to pick up this series after they finish Carter's
The Gallagher Girls
and
Heist Society
series!