Torres, Jennifer. Stef Soto, Taco Queen
January 3rd 2017 by Little, Brown Books for Young Readers
E ARC from Edelweiss Above the Treeline
Stef used to love her father's taco truck, Tia Perla. She was glad that he didn't have to work long hours, and she loved going along with him and getting to eat some of his delicious cooking. Once her former best friend, Julia, starts calling her "taco queen", though, Stef wants her father to stop picking her up at school in the truck, and balks at spending her weekends sitting out in parking lots at markets and festivals. However, when the town starts moving towards laws that will negatively impact her father's business, Stef gets to work. Can she and her friends support her father as he stands up to the town in support of the food trucks?
Strengths: Spot on middle grade friend drama, as well as the difficult issue of being embarrassed by ones parents in public. There are nice subplots with putting together a dance to raise money for art supplies as well as the girls wanting to go to a concert. I particularly enjoyed the fact that this was set in a largely Hispanic community, so Stef was not embarrassed by the taco part of the food truck, just the truck part! It's good to see working class families who are struggling a bit. When I was growing up, it seemed like all of the fathers in the books I read were college professor and the mothers were free lance journalists.
Weaknesses: The cover isn't very strong. With some reworking, I could get 8th graders to read this, but with this cover, it looks too young.
What I really think: Definitely purchasing. Books dealing with food and families do well in my library, and this was generally a fun, hopeful book.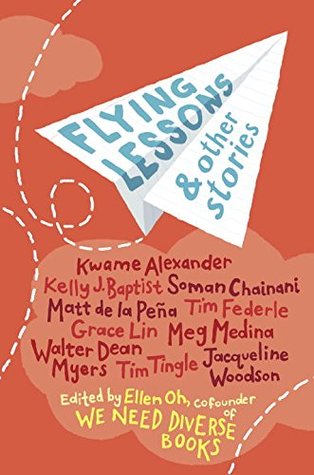 Oh, Ellen (Editor) Flying Lessons and Other Stories
January 3rd 2017 by Crown Books for Young Readers
E ARC from Edelweiss Above the Treeline
Like any collection of short stories, this book has a wide variety of experiences and different styles of writing. It's great that the We Need Diverse Books group had a competition, and this book is a collection of the winners. Really, looking at the authors, it's hard to see how anyone was able to choose! I'll probably buy a copy because of all of the great writers who are included, but I don't know if I will be able to get anyone to read it. My students will not pick up short story collections unless they are Scary Stories to tell in the Dark. It's weird, and I certainly try to give these collections to my readers, but they won't even pick up the marvelous Guys Read books. Maybe I can pitch the collections to teachers. This is a good companion to Open Mic, another diverse story collection edited by Mitali Perkins.
From Goodreads.com "
Whether it is basketball dreams, family fiascos, first crushes, or new neighborhoods, this bold anthology—written by the best children's authors—celebrates the uniqueness and universality in all of us.
In a partnership with We Need Diverse Books, industry giants Kwame Alexander, Soman Chainani, Matt de la Peña, Tim Federle, Grace Lin, Meg Medina, Walter Dean Myers, Tim Tingle, and Jacqueline Woodson join newcomer Kelly J. Baptist in a story collection that is as humorous as it is heartfelt. This impressive group of authors has earned among them every major award in children's publishing and popularity as New York Times bestsellers.
From these distinguished authors come ten distinct and vibrant stories."