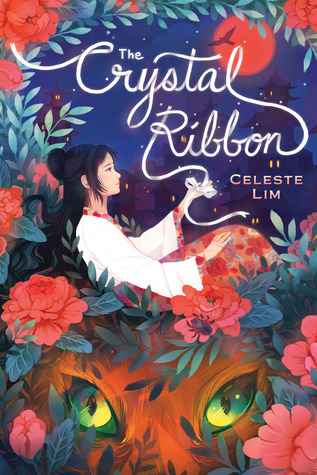 Lim, Celeste. The Crystal Ribbon
January 31st 2017 by Scholastic Press
E ARC from Edelweiss Above the Treeline
Li Jing has a difficult life in medieval China. Not only is her father a poor tea father, but she is made fun of for her name, which sounds similar to the name of the deity of her Huanan province, Huli Jing. When her parents can no longer afford to feed her, she is sold as a bride to the three year old son of a wealthy family. At first, she misses her own family and is bitter, but she takes care of her husband and finds that he is not a bad person. However, her new family falls on hard times, and she is sold to a brothel to become a geisha. She does not want to fall into this life, so manages to escape with the help of sympathetic acquaintances, and undergoes a magical journey to return to her home.
Strengths: This was well-researched and well-written. It reminded me a lot of the work of Pearl Buck in its depiction of family circumstances. After my older daughter was born, I read all of the Buck books at our public library, and The Crystal Ribbon's realistic portions were every bit as good as Buck's. The fantasy portions aptly draw in traditional folk and fairy tales in an appealing way. Fans of Grace Lin's books should definitely take a look at this.
Weaknesses: I'm not entirely sure I have readers for this. Debating.
What I really think: I can see this winning a lot of awards. I liked this one MUCH more than the very popular The Girl Who Drank the Moon.
Which brings us to a good question. Do you buy the award winning books? Do you keep the old ones? I think the defining moment for me was Perkin's 2005 Criss Cross. One of our language arts teachers and I read it at the same time, and both were completely kerflummoxed as to its appeal. I didn't buy it. When I was reading through all the books in my library, I deaccessioned a fair number of older titles that I didn't like personally AND I didn't think students would read. (Always attempted to get students to read them, and removed the books when I failed.) Waterless Mountain, gone. Gay-Neck, gone. It's Like This Cat? Yep, took that one out as well. Kept Hitty, Miracles on Maple Hill, and Banner in the Sky (until it started to pong considerably).
I might buy The Girl Who Drank the Moon. Not buying Wolf Hollow. Bought The Inquisitor's Tale and already kind of regret it. It's always painful when I buy books and the children don't read them. This doesn't happen often-- I try really hard to gauge what is going to circulate. Talk to students a lot about what they like and don't like. The important thing to me is that students read a lot. If they can read decently written books occasionally instead of Wimpy Kid all the time, then I'm happy. Thoughts? Opinions?