It's
Marvelous Middle Grade Monday at Ramblings of a Wannabe Scribe
and
What Are You Reading? d
ay
at
Teach Mentor Texts
and
Unleashing Readers.
It's also
Nonfiction Monday
.
Calkhoven, Laurie. Women Who Launched the Computer Age
September 6th 2016 by Simon Spotlight
Library copy
This short chapter book is packed with information about computers! It discusses early computers, the events surrounding World War II, the reason for hiring women to do the programming, the women that were hired, and how they worked on the project. The fact that they were not given any credit is highlighted, and a little information is given about their lives before and after their work with ENIAC. The back of the book has even more information about computers and programming, in smaller print.
This is a well done book on a neglected group of women who should have been given more credit! Calkhoven (who does the great Boys of Wartime series) does a great job at offering difficult topics in a way that early readers can understand. Since there are few books on this topic, I appreciate that more notes were added at the back of the book.
Alyssa Petersen's pictures are great-- I'd love to see her do more book covers, since her style is just the right balance of cartoon without looking too elementary. The pages are rather crowded, since the type is large. I would have almost preferred this to be in a larger format so there would be more white space, but the issued size brings to mind I Can Read books, which is an excellent hook. Books of this length are a great way to entice even middle school readers to pick up nonfiction books.
Some great pictures of ENIAC appear on this site:
http://www.digitaltrends.com/computing/remembering-eniac-and-the-women-who-programmed-it/#/2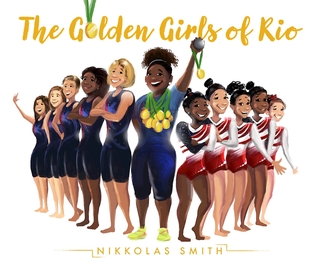 Smith, Nikkolas. The Golden Girls of Rio
November 15th 2016 by Sky Pony Press
Library Copy
This is an overview of the women athletes who competed in the Summer 2016 Olympic games in Rio. It very briefly discusses their childhood and early training, then talks about the medals earned in the games. This is definitely more of a picture book introducing the topic than an early reader book with more information, and the tone is more celebratory than critical. A worthy purchase for elementary schools, although I don't know that I would buy this again for middle school.