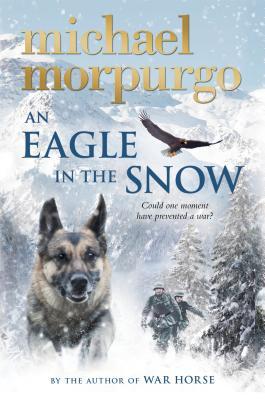 Morpurgo, Michael. An Eagle in the Snow
January 17th 2017 by Feiwel & Friends
E ARC from Edelweiss Above the Treeline
Barney and his mother have had their home destroyed in a combing, so are on their way to live with an aunt. When the train they are on is strafed and goes into a tunnel to wait out the attack, Barney is frightened by the dark. A man who is traveling in their compartment starts telling a story about Billy Byron, a hero from WWI. Apparently, he was so distraught over one girl that they found and rescued that he returned to France after the war to try to find her. He also had let a German soldier go at the end of the war, and felt good that the last shots he fired were into the air, and that he didn't kill unnecessarily. Eventually, he finds the girl, marries her, and continues his life in England. When the second war starts, he sees a picture of a famous historical character and recognizes him as the German he let go free. Given this person's prominence, he obsesses over him and even travels to try to shoot the man. At the end of the book, we find out that the man on the train was Billy himself... and Barney and his mother hear the news that he had been killed. I'm not sure that this fact puts the book into the realm of fantasy, though, since the main story is a purely historical one.
Strengths: Interesting take on World War I through a filter of World War II. Definitely interesting material about both, and about families being bombed out.
Weaknesses: Slowing moving, and very far fetched at several points, even though Morpurgo draws on a historical character.
What I really think: Debating. I'm not sure that my boys who want books about wars would like this one. Will purchase if I have money left over.
Time. Presidents of the United States.
January 10th 2017 by TIME for Kids
Copy provided by the publisher
This "backpack-friendly" sized volume offers short overviews of all of the presidents, including the one being inaugurated today. Most presidents get one page with vital information, a fun fact, and a picture, although some (FDR, Truman, Reagan, Obama and Trump) get two pages. There's also accompanying information on how presidents get elected, a little about the first ladies, and a very complete index. This is a great resource for a library and a great gift for kids who are really interested in the presidents. I really liked the lay out of the pages, and the small size is a big plus. The only detractor is that my copy got damaged just being mailed in a padded envelope-- don't have high hopes for its survival in a backpack!