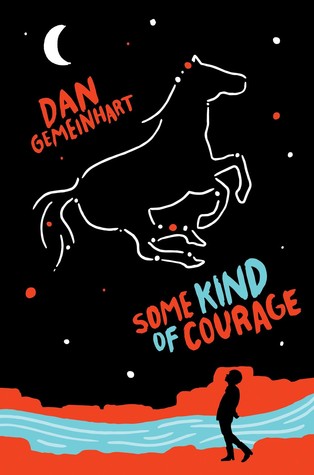 Gemeinhart, Dan. Some Kind of Courage
January 26th 2016 by Scholastic Press
E ARC from Edelweiss Above the Treeline
Joseph is being cared for by the horrible drunkard Mr. Grissom after the death of his father in an accident. He's been mistreated, but the final straw is that Grissom has sold his horse, Sarah, to the equally horrible Ezra Bishop. Joseph takes his father's gun, the money Grissom got for Sarah, and a few provisions to which he feels entitled, tells Grissom what he's doing, and runs away. Before he gets too far, he meets a Chinese boy who has lost his relatives to disease and who seems unable to leave the town. Without speaking his language, Joseph invites the boy, whose name is Cheng, to join him on his journey to find Bishop and retrieve his horse. Joseph understands loss, since his mother and younger sister both fell victim to diptheria. It's not a bad idea to have a companion in the wilderness in the Northwest territories in the late 1800s, and the two boys face grizzlies, bad weather, "Indians" and plenty of evil doers. Cheng eventually finds his father, and Charlie finds not only his horse, but a home along the way.
Strengths: This was the best kind of historical fiction-- fast paced and interesting with lots of good details about what it was like to live in a certain time and place. Joseph's situation is certainly one that would have been common, and the inclusion of a variety of horse dealers was something new.
Weaknesses: While the terms and descriptions of the Chinese immigrants and the Indians are very true to the time period, and Gemeinhart goes out of his way to talk about the approved terms for the Chinese and how Joseph thinks that they should not be treated differently from other people, I am concerned that the depictions of Native Americans will not meet with approval. The tribe dealt with is named as the Wenatchi.
What I really think: I was not a fan of The Honest Truth, so wasn't thrilled to pick this one up, especially with the unattractive cover. This also just about lost me in the first couple of chapters, and when Joseph went on and on about his mother and sister. STILL, in the end I was completely engrossed in Joseph's journey, was glad that he ran into helpful people, and was relieved that he found a suitable situation at the end. I have added a copy to my list to purchase for next year. (This year's money was all spent back in December!)
In fact, this was sort of like a novelized version of a Very Special Episode of the television program Little House in the Prairie. You can just see Joseph ending up with Laura's family. Or at the blind school.