Braddock, Page. Stinky Cecil: Terrarium Terror
February 2nd 2016 by Andrews McMeel Publishing
Copy provided by the publisher
Cecil and his friends are hanging out at the pond as usual when they see a group of miniature humans. Unfortunately, one of them picks Cecil up and takes him back to the school to live in a terrarium. It's not Cecil's favorite place because of a very talkative chameleon, but it's not that bad a life. All leisure, no looking for food or worrying about predators. A snake who likes to hide in the log questions whether Cecil will miss his freedom, and eventually he does long for his friends. Luckily, they are preparing the rescue mission, using Jeff the Hamster's remote control helicopter, but when they finally get to the school, they find that the miniature humans have already gone to a lot of trouble to take Cecil back to his environment.
Strengths: Cecil and his friends are humorous, and the grounds eye view of pond life is interesting. The moral dilemma faced by the classmates who picked up Cecil in the first place will make young readers think before picking up animal life and bringing it home. The colors are so vivid, and the expressions on the characters' faces are amusing. I can see this being used in an elementary science classroom to great effect, especially if terraria are being constructed.
Weaknesses: All of the full color comics smell rather horrible to me, but the smell does dissipate after use, unlike my older books that smell bad for other reasons!
What I really think: I wish that Follett or Baker and Taylor would offer this in a prebind-- my copy of the first book has been read a lot. It's holding up well, but won't last too long in paperback!
Bauer, Marion Dane.
Little Cat's Luck
February 9th 2016 by Simon & Schuster Books for Young Readers
E ARC from Edelweiss Above the Treeline
Patches is very happy with her humans in her nice, comfortable house, but when she chases a leaf outside, she ends up getting lost. She then feels that she should find her own special place, and ends up befriending the mean junkyard dog, Gus. After Patches has three kittens in Gus' dog house, she enlists in the aid of local squirrels and mice to find her humans. When she does, she's glad to be home, but has to find a way to get her kittens to her home as well. To make matters more difficult, Gus doesn't want to be separated from the kittens, either.
Strengths: Obviously, I am a sucker for illustrations of adorable animals. Patches story is very gentle and gives a good lesson about making assumptions about people (or dogs) and about finding one's place of comfort. This would be a good choice for young readers in second or third grade who want to think they are reading a really long book (224 pages, but in verse, with illustrations).

Weaknesses: Not the sort of novel in verse that I think is anything fantastic. Definitely for a younger crowd than middle school students.
What I really think: Will pass, although this would be a solid purchase for an elementary library.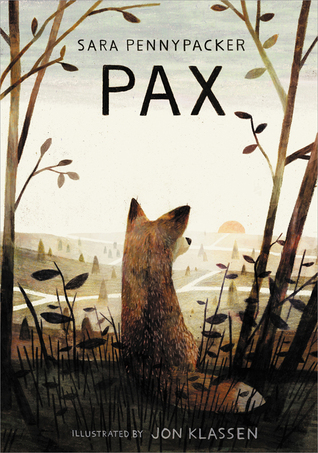 Pennypacker, Sara. Pax
February 2nd 2016 by Balzer + Bray
E ARC from Edelweiss Above the Treeline
In an undetermined place, in a fairly recent time, Peter's father enlists in the army even though he doesn't have to. The war is coming to where Peter lives, so his father has him release his pet fox to the wild, and sends Peter to live with his grandfather. Peter worries about Pax, and runs off from his grandfather's house to make his way back home to find his beloved pet. After walking a tremendous distance, he gets horrible blisters, and luckily finds Vola, a veteran who has lost a leg. She takes him in, makes him write to his grandfather to say he's okay, and helps him come to terms with what is happening. When he heals a bit, he heads off to find Pax, only to find that the war has come to the place where he last saw his pet. Some chapters are told from Pax's viewpoint, but this is still probably realistic fiction, since Pax never speaks to humans. Horrible things happen to Pax, although he is able to get help from other foxes and creatures who are friendly, but war is always horrible.
Strengths: This will probably win the Newbery, if you check out the number of 5 star reviews on Goodreads.com. So sad. So much sad. If you liked Jon Walter's Close to the Wind, or you just need to sob your eyes out, make sure to pick this up.
Weaknesses: I can't see my students liking this at all, even with the Jon Klassen illustrations. There's no particular setting, which is always frustrating. I also found it hard to believe that Vola didn't make Peter go home.
What I really think: This is the sort of book that makes me wonder if everyone else is right and I'm just so, so wrong. I won't be buying this for my school because I think it would just collect dust.