It's
Marvelous Middle Grade Monday at Ramblings of a Wannabe Scribe
and
What Are You Reading? d
ay
at
Teach Mentor Texts
and
Unleashing Readers.
It's also
Nonfiction Monday
.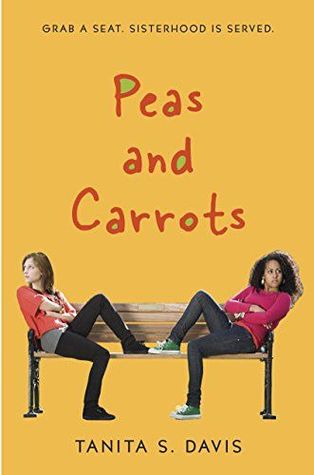 Davis, Tanita.
Peas and Carrots
February 9th 2016 by Knopf Books for Young Readers
Copy sent by the author, just because I asked! Ah!
Dess's mother Trish is in jail for drugs, but is also under protection because she is going to testify and hopefully put some gang members away. Dess has been in foster care, but that's been almost as rocky as her life with her mother. When she ends up in a new placement, she is surprised that she is placed with her younger brother Austin's foster family. The Carters are an African-American family; Dess is Caucasian, and Austin is mixed. The Carters are model parents, talking through difficulties with the children and are very patient with Dess's adjustment. Hope, who is Dess's age, is less understanding. Hope has her own problems fitting in, and while she has a very comfortable life and attends a preppy private school, it is hard to deal with foster children like baby Jamiara, who takes a lot of care. Hope tries to be patient with Dess, but it's hard when Dess calls her "heifer" and may take Hope's coveted spot in a school choir. Dess isn't fond of the fact that Austin seems to have forgotten all about their mother, and she is also worried that members of the gang are looking for her. Things don't always go smoothly, but things don't go smoothly in any family, and eventually Hope and Dess figure this out.
Strengths: My students love Davis' work because she writes about middle class African-American characters who have distinct personalities. I love her work because she has adult characters who are positive role models and writes about them in an engaging, realistic way. Years ago, I actually had a student who came to live with her much younger brother's foster family. There is a lot of curiosity about that family dynamic, and this will be a great book to hand to readers who enjoy One for the Murphys or Where I'd Like to Be.
Weaknesses: The girl on the cover who is portraying Hope seems much slimmer than the way she was described in the book, which is just sad.
What I really think: This is an excellent choice for high school libraries, because of the age of the characters, but is also perfectly appropriate for middle school. I love books that bridge that gap, because I frequently have readers who want fiction with more depth but who aren't quite ready for grittier YA fare. This is perfect.
And how cute is this package! Not to self, if I ever publish a book, I have to somehow tie in coordinated candy!