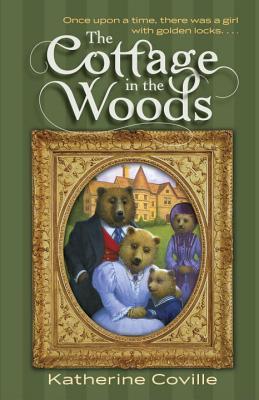 Coville, Katherine.
The Cottage in the Woods
February 10th 2015 by Knopf Books for Young Readers
Ursula's father, a poor teacher, is glad when his wealthy schoolmate, Mr. Vaughn, hires Ursula to be the governess for his young son, Teddy. The family lives near the Enchanted Forest, where one must be careful because some of the animals are wild, while others are sentient like the Vaughns and Ursula. Ursula is young and impulsive; she runs afoul of not only Mr. Vaughn, but the drunken and nasty badger Nurse. Teddy, however, adores her, and the two form quite a bond over writing assignment and science outings. Mr. Bentley, the secretary to Mr. Vaughn, thinks Ursula is flighty and irresponsible at first, but the two come to respect each other, and when Bentley is shot in an incident involving humans who want enchanted animals to go away, Ursula visits him dutifully. But not everything is going well for the town or the Vaughn family, and Ursula uncovers a secret that helps to explain the deep sadness of Mrs. Vaughn.
Strengths:
This reminded my a bit of McKinley's Spindle's End, for some reason. Very well written and evocative-- sort of
Goldilocks
meets
Jane Eyre
. Quite a fun read for a snowy afternoon. Ursula's character was especially fun. She has more pluck than governesses from books written in the 1800s, but not so much that it seems unrealistic.
Weaknesses
: This is housed in the juvenile section of my public library, and I can't think that younger readers would understand all of the nuances. I can't think of any readers in my school to whom I would give this.
What I really think
: A great book, but one that will struggle to find an audience.