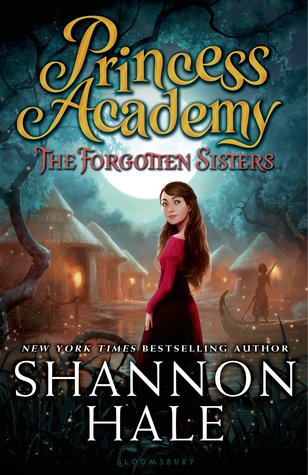 Hale, Shannon.
The Forgotten Sisters (Princess Academy #3)
March 3rd 2015 by Bloomsbury USA Childrens
E ARC from Netgalley.com
In this sequel to
Palace of Stone (2012)
, Miri is all set to go back to her home and family with Peder and the other girls from the academy when the king sends for her. There is war brewing, and the way he has decided to avert it is to send Miri to a far flung swamp to teach three distant cousins of the royal family to be princesses so that the king can marry one of them and not go to war with Miri's country. Reluctant to do this, Miri realizes that she can secure the future of her town in Mt. Eskel by striking a deal with the king to get the land under her village given to her if she is successful. Once she gets to the princess' home, she finds that Astrid, Felissa, and Sus have no parents, spend their entire day in pursuit of food, and are barely eking out an existence in their bare house of linder stone. Not only that, but the traders are stealing their money from the king. It's difficult to train the girls to read and write when so much time is spent on survival, but eventually she gets them to learn via stories and connecting the lessons to their every day life. When the swamp is attacked by the warring faction, the girls manage to escape, meet up with Peder (who had left Mt. Eskel and was trying to make his way to Miri), and try to get to Steffan and Britta to warn them. Family secrets are revealed, and an apt and amusing (if a little surprising) conclusion is drawn.
N.B. I read this on my Nook, which I don't have in front of me, and I can't for the life of me remember some of the names. That's the thing with e ARCs-- I don't really want to scroll back through them for details.
Strengths
: This is my favorite book of the series. Hale excels at world building, and Miri's adventures in the swamp, from wrestling caiman to highjacking the princess' money back by becoming bandits, are quite fun. She maintains her connection to home through letters that are quoted but not received, and the romance with Peder is nice. Lots of good girl power in this series! I will have to dust off the other two and get them to readers.
Weaknesses
: No cohesion in the covers at all, which makes it hard to convince students it's a series! The princesses could have been developed a bit more-- I could tell them apart, but they didn't have much depth. Once the sisters left the town, the sailing and fighting dragged on a bit.
What I really think
: Enjoyed this, but the books are all so different (this one seems more middle grade than the second book) that it's hard to get readers invested in the series.
Perkins, Lynne Rae.
Nuts to You
August 26th 2014 by Greenwillow Books
Cybils MG Speculative Fiction Finalist, 2014
Jed is an unfortunate squirrel who gets picked up by a hawk and manages to escape, but in doing so ends up very far from his home territory. Luckily, his friendTsTs sees him fall and is able to pinpoint his location to a power tower (or giant frozen spider web, if you're a squirrel) some way away. With some other squirrels, she takes off to rescue him. Jed finds the local squirrel community to be understanding, even if they speak like Australians and have a little trouble understanding each other. There are bigger problems, however-- the path along the power towers is being trimmed, and many animal communities are in danger. Jed and TsTs try their best to warn others (while greatly enjoying the peanut butter sandwich scraps left by the workers) with various degrees of success.
Strengths
: This was a cute animal story with serious issues of animals losing their habitats. The layout of the book was very well done, and the accompanying illustrations are pleasant. I can see this being popular in an elementary school, especially with fans of Avi's
Poppy
books.
Weaknesses
: Pretending that the story was told to the author in exchange for peanut butter was a bit twee, and the environmental theme was weakened for me because the workers were just clearing a narrow path, not completely cutting down a whole forest. Wouldn't it be somewhat safer for the animals if the branches didn't touch wires?
What I really think
: This is as close to hell in book form as it gets for me. Talking animals being philosophical IN DIALECT. I only got through it because they weren't telling tales around a campfire. Or did they, and I blocked it out? My least favorite type of book, but I can see its merits and understand why it was a Cybils finalist. Better than Perkins'
Criss Cross
and Appelt's
The Underneath
.