Lee, Y.S.
Rivals in the City
. (The Agency #4)
10 March 2015, Candlewick Press
Mary Quinn is back, enjoying the small nest egg given to her for saving Queen Victoria's life, and basking in her relationship with James Easton, to whom she is engaged, and with whom she has started a detective business. When she is approached by her former employer at the Agency, Anne Treleaven, to help intercept the infamous Maria Thorold when she comes into the country to be with her dying husband, Mary agrees reluctantly. She has fond feelings for Anne and the Agency, but wants to sever her ties. Still, she starts to watch Newgate for glimpses of Maria, and renews her acquaintance with Maria's daughter, Angelica. At the same time, James' building company has a suspicious contract to rebuild the vaults in a bank and has been approached by the other founder of the Agency to help run Maria to ground. Mary finds a long lost cousin who is a fighter, and her sense of "otherness" in a very homogeneous London is often tested.
Rivals in the City
builds on the first three novels in this series brilliantly. Maria is clearly still very much a threat, and the imminent death of her husband is a good reason for her to return to London. Her preparations for her return to crime are clever, and her use of her daughter is typical of her character and ruthless. The problems with the women behind the Agency seem realistic, and the fact that they approach Mary and James separately allows the readers to see the depth of Mary and James' devotion to their business and each other. While the introduction of Mary's cousin seems a bit of a stretch, his appearance and their meeting in London seem plausible. I especially enjoyed how all of the various elements came together at the very end.
Mary and James have a delicious rapport. They want to be married very badly, but feel compelled to observe Victorian mores by being very discreet in their relationship. They take long walks outside or visit museums when they wish to be alone in order to deflect any criticism, but also privately are very forward thinking in their estimation of what women are capable of accomplishing. Maria Thorold is pure evil, but her daughter has grown into a struggling young woman who appreciates the comforts of the life she has lost, but also is grateful for the few comforts remaining to her.
Fans of Cassandra Clare's
Infernal Devices
series who want a more realistic version of Victorian London, as well as fans of Mary Hooper's historical novels, will find Mary Quinn's experiences as a multicultural heroine show a different view of this time period, and any readers who like strong female characters will be drawn to both Mary and to Maria, since both show different ways that women with few socially acceptable routes choose to grab a bit of power over their own lives.
Mysteries are always in high demand at my school, so I look at a lot of them. There's a certain kind of mystery that I know will be popular with my students (e.g. Sorrell's
First Shot
), and while my criteria are nebulous at best, they have stayed pretty much the same over the past dozen years. I was hoping that the following books would work in my library, but I don't think they will. Take a look. Maybe they will work in yours.
Balliet, Blue.
Pieces and Players
March 31st 2015 by Scholastic Press
E ARC from Edelweiss Above the Treeline
This is sort of the third book in the
Chasing Vermeer
series, but also includes the character of Zoomy from
The Danger Box
, as well as Early Pearl from
Hold Fast
. They, along with Calder, Petra, and Tommy are asked to help solve the mystery of a theft at the Farmer art museum by one of the trustees. Like the other books in the series, it has good descriptions of Chicago and the art museums there, has supportive adults, bright kids, and some highjinks. This also had a lot of teen angst about hairy legs and zits. Since I can't get the first three books in the series to check out, I think I will pass on this one. If my students want clue oriented mysteries, they seem to want them to involve murders instead of art.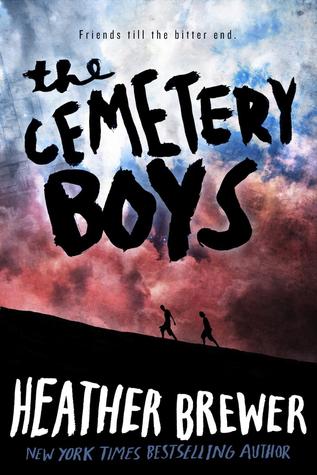 Brewer, Heather.
The Cemetery Boys
March 30th 2015 by Harper Collins
E ARC from Edelweiss Above the Treeline
There's a huge demand for the
Chronicles of Vladimir Tod
books in my library, and certainly quite the demand for scary books, but this started out being rather dull (Stephen has to move to very small town because of family financial difficulties caused by his mother's mental illness and dad's unemployment, he has to put up with really nasty grandmother, he meets hot girl, but her twin brother is menacing) and then got too mature for middle grade. Lots of drinking of horrible sounding liquor, a shirt being removed and a condom mentioned. Sadly, will not be purchasing.
Stokes, Paula.
Liars, Inc
.
March 24th 2015 by HarperTeen
E ARC from Edelweiss Above the Treeline
I was looking at the Edelweiss catalog during a down moment-- the PTO has given me another $1,000 to spend, so I'm working on a book order. One of my delightful 7th grade helpers was looking at titles with me, and we were both intrigued by the cover and premise of this one. I started reading it that night, and was rather appalled. It was coarse and vulgar, with the main character making out with his girlfriend, and when the f-bomb was finally dropped, it occurred to me that I definitely didn't want to hand this book personally to my helper. Drat. This could have worked without the vulgarity.
From Goodreads.com
Max Cantrell has never been a big fan of the truth, so when the opportunity arises to sell forged permission slips and cover stories to his classmates, it sounds like a good way to make a little money and liven up a boring senior year. With the help of his friends Preston and Parvati, Max starts Liars, Inc. Suddenly everybody needs something and the cash starts pouring in. Who knew lying could be so lucrative?
When Preston wants his own cover story to go visit a girl he met online, Max doesn't think twice about hooking him up. Until Preston never comes home. Then the evidence starts to pile up—terrifying clues that lead the cops to Preston's body. Terrifying clues that point to Max as the murderer.
Can Max find the real killer before he goes to prison for a crime he didn't commit? In a story that Kirkus Reviews called "Captivating to the very end," Paula Stokes starts with one single white lie and weaves a twisted tale that will have readers guessing until the explosive final chapters.