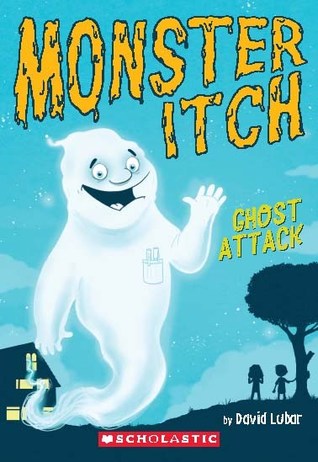 Lubar, David.
Ghost Attack: (Monster Itch #1)
June 27th 2017 by Scholastic Paperbacks
E ARC from Edelweiss Above the Treeline
Alex and his cousin Sarah get to spend some time at their grandparents' house for the summer, so they are looking forward to ice cream and hanging out with their grandparents, who write and illustrate children's books. Alex manages to get the smaller room in the new house, and his arms start itching like mad from a horrible rash. He eventually discovers that the rash is caused by contact with ghosts, and there is one ghost in particular who needs their help. After seeing a historical reenactment in down town Thistle, the cousins decide that their ghost must have something to do with the long ago bank robbery, and start to investigate it... after several servings of ice cream, of course!
Strengths
: This is perfect for readers in about 2nd-5th grade, which are possibly the BEST years for summer reading... or summer in general. This had some suspense, a fun cousin relationship, and was just a nice mystery. The format was much better than this author's
Monsterific Tales
, which tend to have very small print.
Weaknesses
: The cover should have had the ghost from the robbery on the cover. Plus, it's a shame that this is only available in paperback.
What I really think
: I love Lubar's work and am always glad to read it. He knows his audiences very well.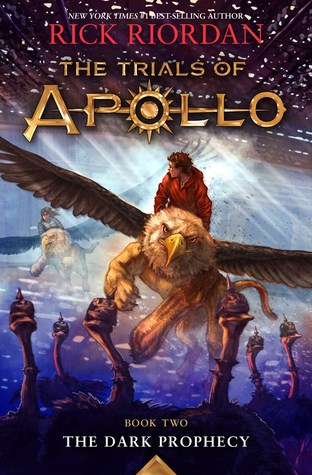 Riordan, Rick.
The Dark Prophecy (Trials of Apollo #2)
May 2nd 2017 by Disney-Hyperion
Copy provided by
Young Adult Books Central
Apollo, disguised as the mortal Lester Papadopolous, is traveling with Leo and Calypso after their adventures in
The Hidden Oracle
. They are searching for Meg, Apollo's demigod master, and their search has taken them to Indianapolis. There, they are attacked by extremely polite but terrifying
blemmyae
, and seek refuge in the Waystation, which is protected by Emmie and Jo, who were both Hunters for Artemis but had to leave because of their romance. They are upset because their daughter Georgina has been taken by one of the triumvirate, and before they will help Apollo in his quest, ask that he save two of their griffins and find Georgina. Britomartis, a minor deity with whom Apollo has had dealings in the past, offers to help, and the group is off to the Indianapolis zoo to use magic tater tots to get the griffins home. Lityerses, a minion of the "new Hercules" who is trying to take over Indianapolis, is out to get Apollo, but eventually ends up on his side. Once Georgina is found, it is determined that her memory has been impaired, and Apollo must find the throne of Mnemosyne to help restore it. This involves another quest, which also helps determine that Apollo must travel to the case of his son Trophinus to receive his prophecy before the forces of evil can receive theirs. Meg shows up and helps him with this, but because she doesn't properly prepare herself, her mind is addled. Trophinus is still angry over the treatment that he received from his father, so makes it more difficult for him to get the prophecy, but eventually delivers it. Apollo returns to the Waystation with Meg so that she can be healed, but the journey isn't over yet. A character from one of the other books shows up at the very end to take Apollo and Meg through the Labyrinth so that they can complete their mission.
Riordan's plots are also richly convoluted, even though they follow a comfortable formula: there is a mission that involves several quests that involve traveling, there are small fights along the way, and eventually there is a bit battle that informs the characters' next movements. These fast paced plots keep the pages turning at a furious rate, but they aren't the best part of Riordan's books.
Descriptions like Apollo being cursed with "a case of acne that
would not
respond to over-the-counter medicine" or random facts like the 3 Mile Island disaster being caused by an epic chainsaw fight between Hephaestus and Ares, caused by an insult to Ares bell-bottom jeans, or even phrases like "battle ukelele" are brilliantly delightful. I find myself not paying much attention to the plot because I just want to swim in the wonderful stream of words and phrases.
The other wonderful part of Riordan's writing is his inclusion of very obscure mythological characters, and the way that he manages to work their mythological story into his own. There is a glossary of characters and words at the back of the book that is very helpful, but I always feel like I need to have a copy of Edith Hamilton next to me so that I can refresh my memory of some of the stories. I hope that younger readers will be similarly inclined.
When The Lightning Thief came out in 2005, I (as a former Latin teacher) was thrilled just to have ONE middle grade book about mythology. Now there are multiple series by Mr. Riordan, as well as books by Anne Ursu, K.L. Armstrong, Zoe Marriott and many other authors, covering the mythology of different cultures. Not only that, put Riordan has been given a Disney-Hyperion imprint,
Rick Riordan Presents
, that will showcase adventures that include the folklore of different cultures.
Give Riordan books to anyone who loves mythology, action, or just a really good, well-turned phrase!
Riordan, Rick.
Camp Half-Blood Confidential
May 2nd 2017 by Disney-Hyperion
Copy Provided by Young Adult Books Central
After Nico sings some tacky songs from a Camp Half Blood orientation video he has seen, the other campers decide it's time to find an updated way to inform new campers about the amenities and history of their hideaway. Interspersed with "screen shots" of Apollo's circa 1950 orientation film, various characters talk about difference facets of the camp, and offer descriptions of some of the more important features. Annabeth talks about increasing living space by constructing "tiny home" cabins, Chiron recounts his introduction to the camp, and Ellis Wakefield discusses "The Ares Peacetime Challenge". Pete the Palikos offers brief, illustrated overviews of areas such as Thalia's Pine, the Athena Pathenos, and the dining pavilion.
Riordan's trademark good humor shines through, and readers who have enjoyed the different series, from Percy Jackson to Trials of Apollo, will be glad to have additional information about their favorite characters and will more easily be able to imagine themselves as residents of Camp Half Blood. Pair this guide with a bright orange Camp Half Blood hoodie as a great gift for a die-hard fan!