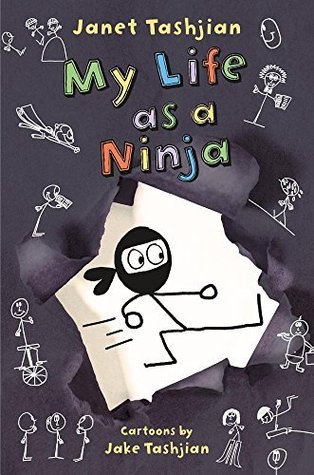 Tashjian, Janet.
My Life as a Ninja
April 11th 2017 by Henry Holt and Co. (BYR)
E ARC from Edelweiss Above the Treeline
Derek and his friends decide that they need to be ninjas-- and of course, ninjas need black clothes, which makes a huge mess when they try to dye them. His mom (who runs a vet practice next door to their home and is the reason Derek has Frank, a Capuchin monkey they are fostering until he can be trained as an assistance animal) and his dad (who finally has a new job with a guerrilla advertising agency) decide that the best was to short circuit future attempts at misguided ninja-ism is to enroll Derek in a martial arts class with Sensai Takai. Derek is not impressed. He wants to kick things, not think about things, and even when he realizes why he can't just karate chop bad guys, he still wants a little more action in his life. He does get it, but in an unpleasant way. Someone is painting graffiti of a Minotaur on buildings around his neighborhood, including his school. When he and his friends try to investigate (they're ninjas, after all), they run the risk of being blamed. To avoid getting in trouble, Derek is willing to investigate everyone, including folks who work with his mom and dad. The culprit causes some complication in addition to the graffiti, but Derek and his family deal can deal with whatever life throws their way.
Strengths
: These are a lot of fun, and are so much better written than
Wimpy Kid
! They always have discernible plots, character development, moral lessons; everything one wants in a book for middle grade readers. Tashjian is a great writer, so half of me wants her to keep writing these, while the other half of me wants to see something like
Fault Line
or
For What It's Worth
(which is brilliant, but not overly popular with my students). I hope that she'll keep writing so we see LOTS of new titles from her!
Weaknesses:
Horrible, horrible bindings. These get so much use that they wear quickly. I might have to start ordering these and the Big Nate titles from PermaBound. Gah. Multiple vendors. I'm also not a huge fan of the illustrations, although it is nice that Tashjian gets to work with her son. What I really think: Yep. Checking PermaBound. I need to replace some of my Captain Underpants books, as well. Now if I can just remember my log in...