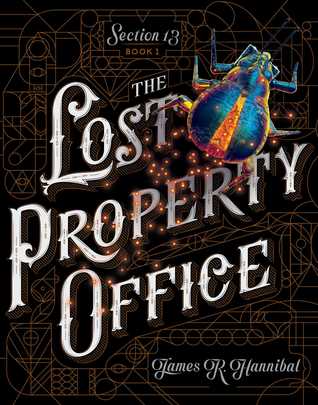 Hannibal, James R. The Lost Property Office (Section 13 #1)
November 8th 2016 by Simon & Schuster Books for Young
E ARC from Edelweiss Above the Treeline
Jack, his sister Sadie, and his mother all arrive in London to look for his father, who often travels for business but has been in an accident and is missing. His mother is so distracted that she tells the two children to stay in the hotel while she goes out, which of course they do not do. Sadie thinks that she sees their father and takes off, with Jack in pursuit. They end up at a lost and found on the tube line, where they meet Mrs. Hudson and then are assigned to Gwen, a teen clerk Jack's age. She whisks them away before they can get forms filled out, and soon people are chasing them and weird things are happening. It turns out that Jack is the 13th Jack Buckles, and his father works for the Ministry of Trackers, who are involved in a battle with the Clockmaker. The Clockmaker wants to get the Ember, which started the great fire of London, and use it to set fire to the current city. Clearly, he must be stopped, and Jack and Gwen are the ones to do it. Eventually, the reconnect with Jack's mother, and learn a lot more about the Ministry and his parents' involvement in it.
Strengths:This had wonderful descriptions of London, and a lot of interesting history. I didn't get a chance to go up the Monument during my last visit because of my broken foot, but now I want to know if there is actually something below it! I have a lot more fantasy readers, and this definitely kept me reading.
Weaknesses: Evil encroaching, only the teen can save the world. It's 400 pages long AND it's the start of a series. I would love some stand alone fantasy books. I also was completely at sea when the author repeatedly described a "freckle bounce". What on earth? A smile? I thought perhaps it was a British colloquialism, but I think perhaps it is only this author, since an internet search brings up nothing. Strange.
What I really think: I'll buy it, but there will be a limited number of students who read it. On the bright side, it will stick around for a long time, and I enjoyed it enough that this makes me glad. (As long as no one loses book two ten years from now!)
Crowl, M. Tara. Eden's Escape
September 6th 2016 by Disney-Hyperion
Copy provided by Young Adult Books Central
After Eden's Wish, the title character has been allowed to live outside the lamp while she is granting her 999 wishes. Xavier and Goldie allow her to live in New York City with the genie Pepper as her guardian. The two have a great time taking in the sights, but when Eden gets her first wish, things go wrong. She has been called by David Brightly, the head of an enormous tech firm, and he wants to experiment on her and the lamp to see if he can unlock the secret to endless wishes. Eden manages to escape, but finds herself in Paris without a way to get back to New York. On top of that, Brightly alerts the news that his adopted daughter has been kidnapped-- and flashes pictures of Eden all over the news. Luckily, Eden meets Melodie, a French girl who helps her survive in Paris and contact Pepper to come and get her. Meanwhile, the Electra decide that this is a good time to claim the lamo for their own, so Eden is fighting them as well. The Loyals help, and eventually Eden is able to salvage the situation and return to her wonderful new life on earth.
This was even more fun than the first book, and the sights and sounds of both New York and Paris are greatly detailed. Even Delta's decrepit house with huge numbers of birds is amusing. Eden has the background knowledge about both cities from her genie training, as well as a good command of French, so she should be able to travel anywhere!
The characters are my favorite part of this. Eden is a typical middle grade student, but one with a lot more opportunities and powers. Pepper is an energetic and amusing guardian, and Melodie is a worthy companion who gives her unquestioning support to Eden's escapades. Even Tyler and Sasha make a brief appearance, with the romantic interest in Tyler remaining fairly strong.

With a unique premise, evil tech villain, and lots of adventure, this is a great read for those who enjoy magical realism like Kessler's Emily Windsnap books, Mlynowski's Whatever After series, and the classic works of Edward Eager and Mary Norton.