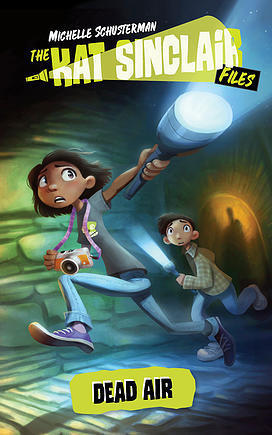 Schusterman, Michelle. Dead Air (The Kat Sinclair Files #1)
September 1st 2015 by Grosset & Dunlap
Library copy.
Kat has been living with her grandmother, former Scream Queen Edie Mills, in Ohio. Her father was a news anchor, but decides to take a job cohosting a paranormal investigation show with heart throb Sam Sumners. Since Kat's mother has left to go find herself in Cincinnati, leaving isn't quite so hard, although Kat misses her friends. Soon, she is off to foreign countries to be home schooled by a production assistant, Mi Jin, and to help hunt down ghosts. She starts a blog, which becomes very popular, and which might help boost the shows ratings. There's plenty of ghost activity, and some summoning of spirits with a Ouija board.
Strengths: A very solid middle grade mystery with a nicely diverse cast. Some problems (the mother leaving and finding a new boyfriend), but nothing too sad. Lots of action and adventure. Enjoyed this!
Weaknesses: While the story is great, the book suffers from poor formatting. Paper over board covers, tiny print, looks like the pages will rip out after the book is read twice.
What I really think: I'm glad I bought this, and am looking forward to Graveyard Slot (
September 6th 2016 by Grosset & Dunlap), but it's only available in paperback. It's so annoying that mediocre books get thousands of dollars of publicity, when really good books can't even get decent formatting.