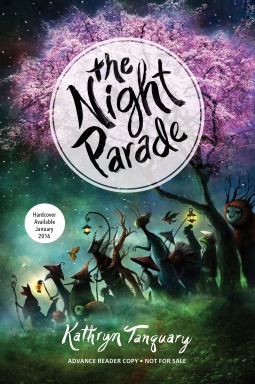 Tanquary, Kathryn. The Night Parade
January 5th 2016 by Sourcebooks Jabberwocky
Saki Yamamoto is NOT pleased that her family has to leave Tokyo to spend time with her grandmother at a town so small and far away that there is no reliable cell phone reception. They are there to help her grandmother celebrate Obon, a festival of the dead, which has become both sadder and more important since the passing of her grandfather, who was a priest who took care of the cemetery near her grandmother's house. During the festival, she makes the acquaintance of some of the kids from the town, and they convince her to take them to the cemetery, where they cause some damage. That would be bad enough, but Saki manages to bring a death curse upon her family, and only through dealing with different spirits in the night parade can she reverse it.
Strengths: Vaguely creepy. This would be good to read along with The Jumbies, Hoodoo, and have a multicultural horror unit. Tons of good details about Japanese culture and religion.
Weaknesses: The mean kids and Saki's reaction to them wore on me.
What I really think: Saki was such a brat that I had trouble getting into this. If she had been more sympathetic, I would have liked it much better. Still, I might buy it because of the details about Japanese culture. It reminded me of Somewhere Among because of the visit to the grandparents' house.