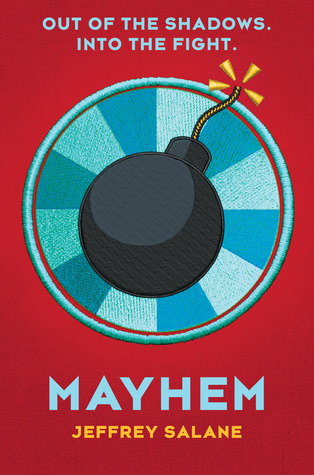 Salane, Jeffrey. Mayhem (Lawless #3)
April 26th 2016 by Scholastic Press
ARC from Young Adult Books Central
M is settling into her new school well, and has several good friends. Her parents make her flaxseed waffles and papaya facial masks. It all seems perfect-- until new kid Evel arrives at school and the art teacher is replaced by Dartsey, who proceeds to attack M. With the help of Evel, she escapes and goes home, only to remember her past as a Lawless student. Evel is Ronin (neither Lawless nor Fulbright), and drags M into a whirlwind of travel and explosions, complete with trips through abandoned mines, and a maelstrom of
scattered allegiances
as she tries to find her mother and figure out what side is right... and what side she's on.
This final book in the series is a nice departure from Lawless and Justice, taking M away from the school setting (since the school came to grief in the previous book) and opening the door to all manner of frenetic activity. Any book that includes the characters traveling to the British Museum in London is always a good bet, especially when it becomes the site of a scavenger hunt. I loved that even in the midst of a frantic search for clues to save the day, Jules says "If we live through this, remind me to come back and take my time touring this place." (page 217)
The characters are fun as well. M struggles with her memory loss, which makes her trust Evel long enough to discover that he's not all bad, even though he's a Ronin. Her friends Chloe, Emma and Jenny are a fun mix of typical tween girls and spies with ninja-like abilities. Villains Cal and his mother Mrs. Watts show up... but are they really villains?
The difficulty in determining which side is good and which side is evil gave me some pause, but readers of Artemis Fowl will enjoy the ambiguity, and the excitement of not really knowing what the next move should be, and whether or not M is one of the good guys or one of the bad guys.
This is the final book in the series, but readers who want more will be well served by picking up Walden's H.I.V.E. series, Jinks' Evil Genius or Gibbs Spy School series. You never know when your middle school art teacher might crack, and there are lots of good spy tips to learn from these books, just in case you need them!
I'm not normally a fan of cover changes, but I like the embroidered look of the updated covers. Unfortunately, I won't be updating my copy of Lawless just so the series matches!