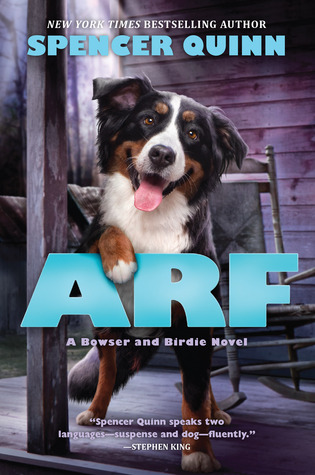 Quinn, Spencer. Arf
(Bowser and Birdie #2)
Published April 26th 2016 by Scholastic Press
ARC from Young Adult Books Central
Birdie's mother is home from working as an engineer on an oil rig, but right after her return the family home is broken into and the frame holding Birdie's father's medal of honor is ruined. Nothing seems to be taken, and another home, belonging to the wealthy Richlieu's, is also broken into, although there pearls are stolen. Birdie and her friend Junior, as well as Bowser (our narrator), investigate the mystery and soon gets sucked deep into a cold case... the one that caused Birdie's father's death. They meet the young woman whose father was killed in New Orleans, and soon Birdie finds the woman drowned at a campsite. The Richlieu's robbery was staged, so how do the two connect? Birdie's mother loses her job when the price of oil drops and is soon keeping company with Vin Pardo, who says he will help her find another job. Bowser is not a fan of the man, especially since he smells of lime aftershave and cat... the same smells that the house had after the break in. Birdie manages to find out too much about the whole mystery, which puts her in danger. Luckily, she has Bowser at her side to protect her.
While the narration by the dog is a bit uneven (sometimes Bowser is obsessed with bacon in a very dog like fashion, but at other times he is fully rooted in the human world and can pick up very human details), this is a solid murder mystery. Birdie, along with her grandmother and mother, have moved on with their lives after the death of Birdie's father in the line of duty, but they still would like closure. The grandmother in particular is a fun character, fiesty but vulnerable at the same time.
Vin Pardo (hopefully no relation to Don Pardo, the television announcer!)is a deliciously slimy villain, and even though Bowser knows from the beginning that he is most likely behind things, the clues as to why are still revealed in a satifyingly realistic way. Even I didn't see some of the interplay between characters.
It's hard to find middle grade murder mysteries, so this is a good bet for readers who enjoyed Beil's Red Blazer Girls, Runholdt's Kari and Lucas Mysteries, and any of the Hardy Boys or Nancy Drew reboots but want a more intense mystery along the lines of Alane Ferguson's Forensic Mysteries or Walter Sorrell's Fake ID series.