I haven't bought a lot of romance books this year, since my students are all reading nothing but graphic novels. Very depressing. Usually, the some of the 8th grade girls want paranormal or high school romances, the 7th graders read the Students Across the Seven Seas and Simon Pulse Romantic Comedies, and the 6th graders read the Candy Apple and Darling's Crush books. This year, not so much. The Sky Pony Press Swirl novels have done pretty well, and I needed some fresh romance, so was pleased to happen upon the Scholastic WISH series in prebind. Perfect.
Read these in one night and was impressed at how different and well written each one was! Good use of taxpayer money! The covers are super cute!
Nelson, Suzanne.
Cake Pop Crush
April 2013 by Scholastic
Alicia's father runs the Say it with Flour bakery in a California town, and she, her young brother Roberto and Abuelita Rosa help out when they can. Her mother has passed away, but Ali has only vague memories of her. When new boy Dane moves to town from New Orleans, Ali is momentarily intrigued, until she finds out that his father owns the corporation behind Perk Up, the new coffee shop that seems to be aiming to put the bakery out of business. Sarah Chan, the spoiled daughter of the mayor, has her eyes on Dane who seems to like Ali despite their differences. Ali thinks she can save the troubled bakery by winning a bake off with Dane, but she loses and the bakery is going to go out of business. In the end, however, Dane uncovers some unfair dealings, and Ali secures several large cake pop orders from the mayor. The business is saved, and Dane and Ali's romance is secure.
Nelson, Suzanne.
Macarons at Midnight
January 1st 2015 by Scholastic
Elise moves to a small town from Boston when her mother gets remarried and moves to Switzerland. She's glad to be back with her Brazilian dad, but could do without her stepsister Destry and expectant step mom. After a disastrous costume part at Valentine's Day, Elise stops into A Swoonful of Sugar, a local patisserie that is having a tasting session. She has a very meet-cute with a boy who is drawing sketches, but she doesn't get his name and he doesn't know what she looks like. They meet up eventually at school, and find they have a lot in common-- Elise was the editor of the school newspaper at her old school, and Rajiv is the editor at the new school who grudgingly gives her a job, not knowing she is the girl for whom he is searching. There is a bit of drama and uncertaintly between sort-of-snotty part time model Viv, who is sort of Elise's friend and Kyan, who was very nice to Elise and is definitely her friend, as well as Raj, but eventually the couples sort themselves out.
Nelson, Suzanne.
Hot Cocoa Hearts
November 1st 2015 by Scholastic Inc.
Emily's family has a Photos With Santa booth at the mall, and work with a local cocoa shop to try to increase business. Emily is not pleased with having to work as an elf, but is intrigued by Alex, the grandson of the cocoa shop owner. Emily is part of the "Undergrounds" group at school with her best friend Jez, and has a huge crush on the arty and swoonworthy Sawyer. Since her grandmother's death, Emily doesn't really feel like celebrating Christmas, but when her homeroom at school does a Secret Santa gift exchange and Sawyer is her Secret Santa, she enjoys it a little more. After a somewhat disastrous first kiss with Sawyer, Emily starts to doubt that he is the right boy for her, but finds that she has lots in common with Alex.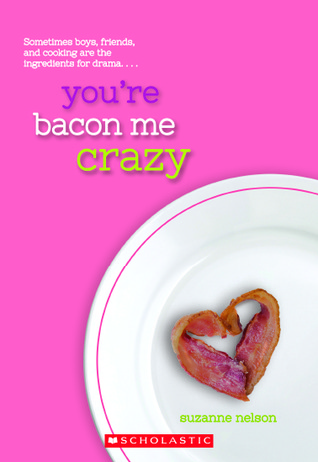 Nelson, Suzanne.
You're Bacon Me Crazy
November 1st 2015 by Scholastic Inc.
Tessa lives in San Francisco and spends most of her time hanging out with her best friend Mei or working at her aunt Cleo's food truck, creating awesome sandwiches. When the spoiled Asher is forced to work at the truck after he breaks his mother's lamp, he messes up a lot until Tessa tries to work with him. Cleo is preparing for the local Flavor Fest, hoping this will imporve business so she doesn't have to give it up, but the evil Mr. Morgan plans a restaurant festival in the same location as the food truck one. Tessa struggles in school to get all of her work done, and her parents work long hours and are rarely home, but she tries to get the food festival reinstated. Of course, the more she gets to know Asher, the more she likes him, even if his friends are all the Beautiful People.
Nelson, Suzanne.
Donut Go Breaking My Heart
November 1st 2015 by Scholastic Inc.
Sheyda lives in Manhattan and loves to help out at her friend Kiri's family doughnut shop. When a rude boy comes in, Sheyda waits on him and accidentally spills a box of doughnuts on him. It turns out that he is Cabe Sadler, a movie start in town to film a movie at the doughnut shop. Kiri wants to be an actress, so auditions for a role, but Sheyda is offered one instead. Kiri insists that she doesn't care, but she also likes Cabe, who seems to have more romantic interest in Sheyda. Sheyda works on the film, continues to go to school, and makes a stage model for a scholarship competition. When Kiri ruins it, will the two be able to remain friends, especially when Sheyda and Cabe like each other?
Nelson, Suzanne.
Sundae My Prince Will Come
March 27th 2018 by Scholastic Paperbacks
You know I have this on order for next year!
From Goodreads:
Malie's mom manages an ice cream parlor, but Malie's real love is ballet. She dreams of landing the lead in an upcoming production of
Cinderella
and dancing onstage while her boyfriend, Ethan, cheers from the audience. But Malie's mom is less than supportive.
Then cute new boy Alonzo arrives from Italy.
His
true love is ice cream -- gelato, to be exact. Alonzo offers a Malie a deal: If she lets him help out at the parlor, she can take dance lessons from his mom, a famed ballerina.
As Malie pirouettes between the parlor and the ballet studio, things start to spin out of control. Does she have feelings for Alonzo? What about Ethan? And if she doesn't get a role in
Cinderella
, can she find her happily ever after?