Khan, Hena.
Power Forward (Zayd Saleem, Chasing the Dream #1)
May 8th 2018 by Salaam Reads
E ARC from Edelweiss Plus
Zayd LOVES basketball and isn't thrilled about being on a development team instead of the "gold" team like his best friend Adam. He could be a lot better if his parents didn't make him practice violin so much. Of course, it doesn't help that he is scrawny, mainly because his mother insists on healthy food, which doesn't always sit well with his sensitive system. When he listens to some other basketball players and decides to practice his hoop skills before school in the morning, he neglects to tell his mother that he is skipping orchestra practice. When she finds out, she is not pleased, and his parents ground him... from basketball. Zayd needs to find a way to explain his actions and his dreams to his parents in a way that they will understand. Luckily, he has supportive family members like his grandmother and uncle who help him reconcile his dreams with his parents' wishes.
Strengths
: To me, this is what #WeNeedDiverseBooks is all about. Realistic stories about children from particular backgrounds whose families and culture inform their everyday actions but don't necessarily define them. Sure, Zayd wants to be the first Pakistani-American NBA star, but he mainly wants to just play basketball with his friends. I especially appreciated that Zayd was underweight. There are so many middle schoolers, especially boys, who struggle with athletics because they haven't caught up with other children their own age in growth yet. I've known boys like Zayd who have sensitive digestive systems, or perhaps a touch of anxiety, who actually do a lot better eating more potato chips than kale, yet I've not met one of these picky eaters in a middle grade book. Brilliant, brilliant stuff! I hope that adults who are loathe to pick up sports books will discover that this mix of culture, personal problems, and sports is a slam dunk.
Weaknesses
: I really wish that Zayd had been a 7th grader, since readers this age tend to "read up". Still, with sports books, this tends not to be as much of a problem.
What I really think
: So excited to order this and have it on the shelves when school starts!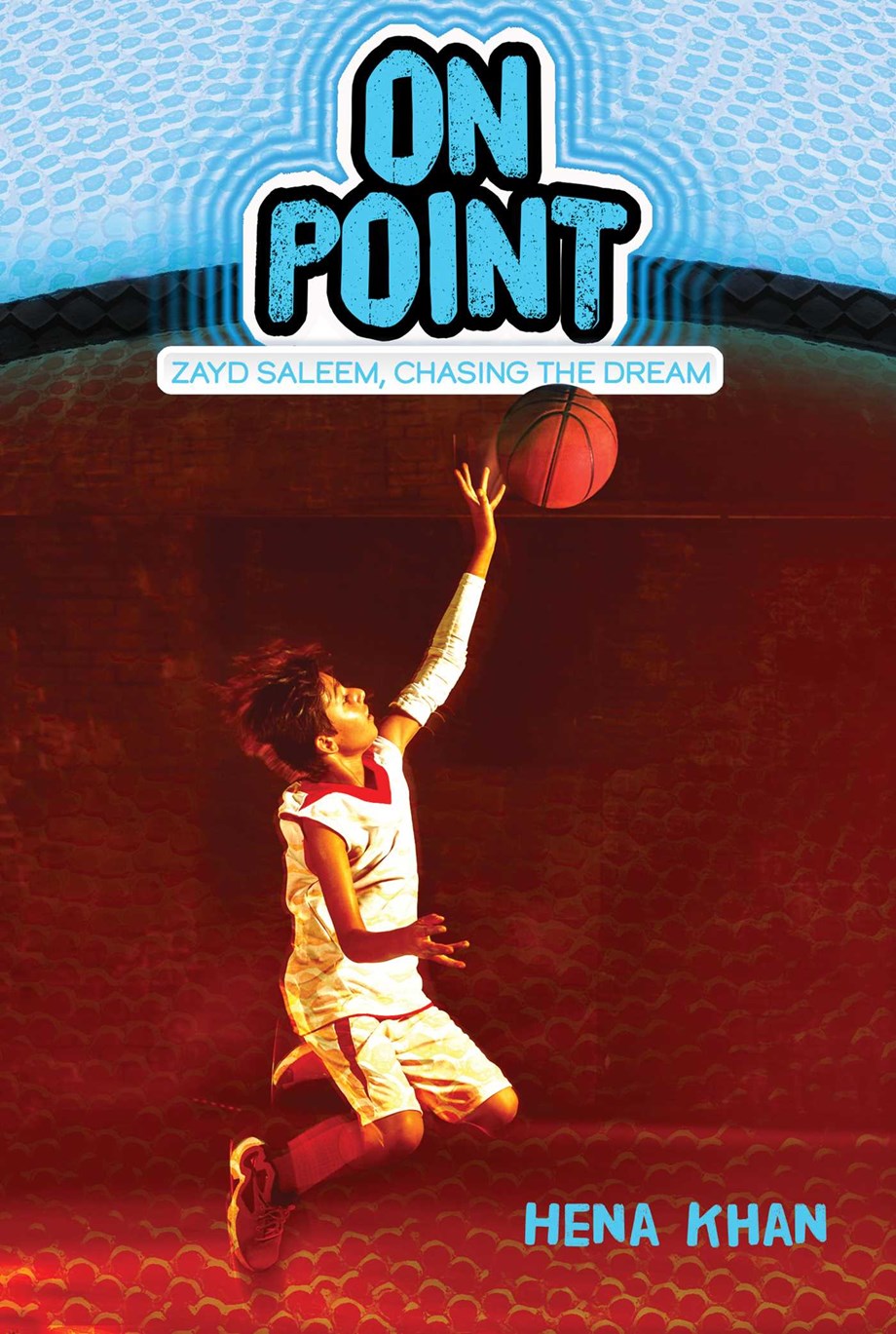 Khan, Hena.
Power Forward (Zayd Saleem, Chasing the Dream #1)
May 8th 2018 by Salaam Reads
E ARC from Edelweiss Plus
Zayd is really excited to be playing on the Gold team with his best friend, Adam, but when the team has their first game, things don't go very well. The boys aren't communicating well, and Zayd feels off his game. To make matters worse, Adam seems to blame Zayd a little, and starts to play football at recess with a bigger kid named Antonio, even though the two friends have always played basketball together. Things are going okay at home, and when Zayd is caught playing a card game instead of a math game and is given a pink slip, his mother doesn't worry too much about it. However, when his uncle Jamal Mamoo gets engaged, the whole family gets dragged into the wedding planning frenzy. There are lengthy discussions about the invitation list, the catering, the clothing, and whether or not it is possible to rent a horse in Maryland the way grooms do in Pakistan! After an all day excursion to a town in Maryland that has lots of Pakistani shops, and after seeing his older sisters "spa day" birthday party, Zayd realizes that on every team, there needs to be a captain. He steps up on the basketball court in Adam's absence, and feels better about how the team plays. He also tells his uncle that someone needs to be the captain of the wedding team and tell people the direction the planning should go, or else people will just keep pushing for their own agenda. Hopefully, we will get at least one more book that covers the wedding!
Strengths
: It is brilliant the way Khan took a life lesson that Zayd learned on the basketball court and let him use it to help his uncle and aunt-to-be! The structure of the novel was just particularly well done, and as with the first book, I appreciated the little, realistic touches like Zayd being mortified about his "pink slip". Zayd isn't perfect, but he tries, and he has a fantastic, supportive family. His grandparents are aging, and this isn't glossed over, but they are also fun characters. The details about like in a Pakistani-American family are great fun-- the trip to New Jersey made me want to go Edison, NJ! This series is perfect for readers who want a great family story mixed up with basketball details! The story line with Adam is especially true to life.
Weaknesses
: Even though it is mentioned once or twice that Zayd is in fourth grade, I don't think older readers will care.
What I really think
: Definitely purchasing. Will have to get two of the first book in the series, since I think it will be super popular with my Fred Bowen, Amar'e Stoudemire and Matt Christopher fans.