It's Marvelous Middle Grade Monday at Always in the Middle
and #IMWAYR day at
Teach Mentor Texts
and
Unleashing Readers
. It's also
Nonfiction Monday.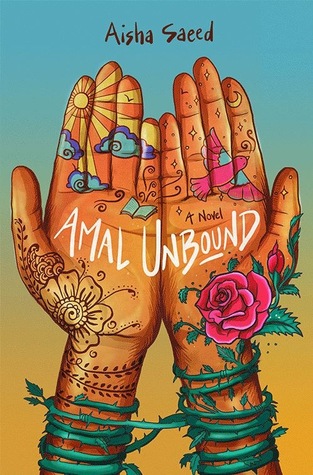 Saeed, Aisha.
Amal Unbound
May 8th 2018 by Nancy Paulsen Books
E ARC from Edelweiss Plus
Amal loves to go to school and help out her teacher, unlike her friend Hafsa who gets miffed when class lets out late. Hafsa and Amal plan to leave their small town near Lahore and go to college some day, and Amal wants to be a teacher. However, when her mother has her fifth daughter, she falls into a depression and even with the help of the family housekeeper, Parvin, there is too much work to be down. Amal must stay home from school to do the laundry and cooking. When she is in the market, enjoying the time away from the house, she buys a pomegranate as a treat for herself. On the way home, she is hit by a car, and instead of apologizing, the occupant takes away her pomegranate! Amal grabs the fruit back and leaves after a few terse words, not realizing that she is crossing Jawad Sahib, who loans money to local families and exacts horrible consequences if not repaid quickly. Since her father owes money to Jawad after some bad years with the family farm, Jawad decides to take Amal to his estate to work as a maid in repayment. Her father assures her that this will only be for a month of so, and Amal is fortunate that she is to work for Jawad's mother, Nasreen Baji, who is kinder than many employers would be. Still, she is given trouble by Nabila, who was Nasreen Baji maid but was demoted after making mistakes, and she quickly begins to realize that she will not be going home soon. She tries to make the best of the situation, and with the help of the other servants, borrows books from the house library. Because Jawad's father is running for political office, the family has built a literacy center in Amal's town, and the Ministry of Education has staffed it, but no one will go, not wanting to owe the family anything. Amal is forced to attend but is very happy to be taught about computers by the teacher, Asif. When Jawad's evil doings finally catch up with him, Amal is able to give vital clues to the authorities and break the family's hold over her town.
Strengths
: We need more books about how young people in other countries live, and I would have adored this as a middle school student. The details of what school and family life are like for Amal are wonderfully depicted, and her close knit, extended family is supportive and caring. Having markets in both the town and in Lahore described is fascinating, and the family wedding and attendant parties adds even more cultural depth. Amal's plight, and her reactions to it, are realistically portrayed, and her impulsive behavior has both good and bad consequences. There are so many wonderful levels of things happening in this book, and there is an overall upbeat feel that will help young readers process the traumatic experiences that Amal has. Notes in an afterword discuss the plight of indentured servants in today's societies.
Weaknesses
: It seems a little unrealistic that Amal would be able to bring Jawad to justice, but it does make for a great story!
What I really think
: I need books like this set in lots of different countries! Every day life for children 11-14, with details about food, clothing, school, families and so many other things! Reading this type of book, as well as historical fiction, is a great way for young readers to understand that the entire world is not exactly the way their little corner of it is!