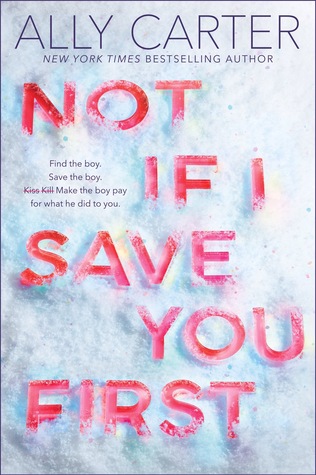 Carter, Ally.
Not if I Save You First
March 27th 2018 by Scholastic Press
E ARC from Edelweiss Plus
Maddie's father is a Secret Service agent who is protecting Logan's father, the president of the United States. "Mad Dog" and "Rascal" manage to get up to all kinds of trouble in the White House, finding secret passages and spying on dignitaries. When Russian spies try to kidnap Logan's mother, Maddie's father manages to save the First Family, but is injured himself, as is Logan.
Fast forward six years. Maddie and her father are living in a shack in Alaska. She has learned a lot of survival techniques, but is angry that Logan has never answered any of her letters. How do you go from being best friends to not talking at all? After Logan evades his security detail one time too many, his father comes up with a plan-- send him to Alaska, where he won't be able to post inappropriate things on social media or sneak out to parties. Neither teen is thrilled, but start to get settled in. Maddie's father is called away suddenly to deliver supplies to someone before the storm. When Maddie and Logan venture outside, Maddie is attacked and Logan thinks she is dead. Logan is abducted by a young Russian man he calls Stefan, and marched across the landscape toward a plane. Fortunately, Maddie has survived, and follows Logan. Eventually, she is discovered by Stefan, and the three fight their way to an unknown location, but Maddie and Logan manage to break away. Both are injured and weak, but trying their best to save each other. Who is behind the kidnapping, and will the two manage to survive... and to save their friendship?
Strengths
: Carter excels at creating strong characters who have excellent fighting skills. Maddie would fit right in with the Gallagher Girls, and could teach them a thing or two about wilderness survival. Logan is fairly clueless, but well meaning. The two clearly care for each other, and there is some light romance... if they weren't so busy fighting for their lives, they would clearly share a lot more cozy moments. This was a great balance of excitement, spies, and snuggling.
Weaknesses
: The cover is a bit odd. It looks like Jell-o in the snow. Also, I was somewhat confused by all of the political twists. Not sure how I feel about Russians being the bad guys-- it makes me think of my own teen years. I guess they are the bad guys once again!
What I really think
: Definitely purchasing! Always glad to see something new from Carter, and both Maddie and Logan were upbeat in the face of all of the dangers of the wild.