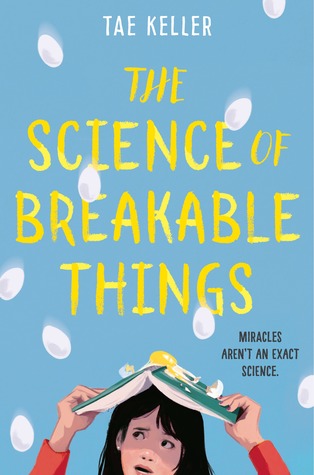 Keller, Tae.
The Science of Breakable Things
March 6th 2018 by Random House
ARC provided by publisher through Follett's First Look Program
Natalie is dealing with a lot-- her best friend, Mikayla, no longer talks to her; she likes her teacher Mr. Neely but is occasionally overwhelmed by his enthusiasm; and her mother is so depressed that she doesn't get out of bed most days. Natalie knows this is because her mother was fired from her job at the university botany department by Mikayla's mother, but she wishes that she had her "old" mother back. When Mr. Neely suggests that she enter the Egg Drop competition for her science inquiry project, Natalie doesn't really want to, but thinks that she could use the prize money to cheer her mother up by taking her to Mexico to see the rare Cobalt Blue orchid that she was studying. Natalie works with her best friend, Twig, whose mother was a super model and doesn't always see eye to eye with her daughter, and eventually the two work with Dari, a fairly new student as well. Dari is very smart, but is having trouble making friends. The group tries many different ways to cushion their eggs for the drop (my favorite is using marshmallows and chocolate for the S'megg! If only they had incorporated a graham cracker box!). They sneak into the school to practice dropping the egg from a height, and their stealth tactics come in handy later in the book. Natalie's father is a therapist who makes Natalie see Dr. Doris to talk, and eventually things come to a head and her mother also must be brought into the conversation.
Strengths:
The situation with Mikayla is SO true to life. Very strange things happen with middle school friendships, and the reasons aren't always clear. There is a good mix of home and school life that I wish I would see in more books. Natalie's ethnic heritage is interesting-- her father is half Italian and half Korean (but not being interested in anything Korean), and her mother is described as having blonde hair. There's a lot of support for Natalie all around, even though it isn't always effective. There are enough other things going on in the story to make the book interesting. Love the cover.
Weaknesses
: I have come to the conclusion that I am the only person involved in #MGLit who is tired of all of the depressing stories. Everyone else (including
Kate DiCamillo
and
Matt de la Pena
) and is coming out with articles about why Sad Is Good. Fine. It must some horrible, Trump-induced Zeitgeist. I don't get it, but I have given up complaining. All I know is that sad books make me sad, and I don't need any help in that direction. I think a much better plan, when bad things happen, is to ignore them and move on. NO ONE agrees.
What I really think
: I will probably purchase. The cover is appealing, the length is right, and it's less depressing than a lot of books.
TWO-WEEK BLOG TOUR
(March 5th – 16th)