Gramling, Gary.
The Baseball Fanbook
April 3rd 2018 by Sports Illustrated
ARC provided by publisher at ALA
Did you know that today's MLB opening day is a bit unusual? It is the first time in fifty years that all of the teams have games scheduled, so it really an opening day for everyone. Why they haven't done this since 1968, I have no clue, but then, clueless would describe most of my sports knowledge!
This is why
The Baseball Fanbook
is such a great resource. Like
The Football Fanbook
, this is packed with all manner of information. Record breakers, team histories, old and new players with particular talents, an entire section on baseball skills and how to better your game, and odd facts like why baseball teams wear white uniforms at home and gray ones on the road. (Although we can only hope the laundry situation has improved!)
I was most impressed with the number of teams in the Midwest that have existed at their current locations for over 100 years! I do find it incomprehensible that the Cleveland Indians didn't change their name 50 years ago (the
Burning Cuyahogas
, anyone?) and am completely baffled that they haven't changed their mascot.
If you can't get to a game today, reading
The Baseball Fanbook
is the next best thing.
Johnson, V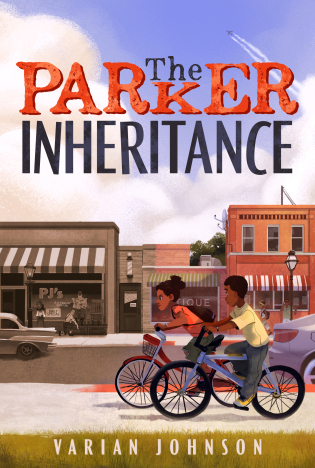 arian.
The Parker Inheritance
March 27th 2018 by Arthur A. Levine Books
Copy provided by
Young Adult Books Central
Candice's grandmother was a city official in the small town of Lambert before she fell into disrepute. She thought there was treasure buried under the tennis courts and had them dug up. When no treasure appeared, she was relieved of her duties. Candice and her mother are spending the summer cleaning out her grandmother's house after her death, and Candice has some letters that indicate there is still a treasure out there. It's a rough summer-- her parents are separated, and her home in the city is being readied to sell, and there's no one to hang out with in Lambert while her mother is working on her book. Luckily, she finds bookish Brandon, and the two bond. She eventually shares the secret of her grandmother's letters with him, and the two follow the very detailed clues, learning a lot about the racial history of the town in the process. Will they finally find the treasure for which her grandmother was searching?
Strengths
: This offers an excellent view of what life was like in the 1950s for blacks in the South, and it was good to see this through the eyes of modern children. Candice's life has some challenges, since she misses her grandmother and her parents' separation has a bit of a twist to it, but her parents are supportive and present, and the mood is generally upbeat. The clues they follow are interesting, and the mystery itself is deliciously convoluted.
Weaknesses
: This took me about four days to read. I kept putting the book down and then thinking I was finished. This could have used some tighter editing to make it shorter and more fast paced. I wish the subplot with Brandon being bullied had been left out.
What I really think
: This reminded me VERY strongly of
Things Too Huge to Fix by Saying Sorry
by Susan Vaught. The investigative process was similar, it involved civil rights, but the end of the mysteries were different. I will buy because this author is popular in my library and the cover is great.