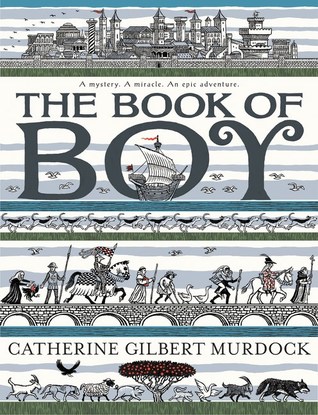 Murdock, Catherine Gilbert.
The Book of Boy
February 6th 2018 by Greenwillow Books
E ARC from Edelweiss Plus
Boy is a servant in the household of Sir Jacques. It used to be a decent position, especially for a hunchback, but once the lady of the manor and her children died of the plague and Sir Jacques was gravely injured, the former Cook ruled the roost. When Secundus, a pilgrim, happens by and decides that Boy could be useful in carrying his bag, he bargains with Cook and has Boy accompany him. Secundus is ill, and looking for seven relics of St. Peter's that might get him into heaven. Along the way, the two must steal, connive, and get into lots of scrapes before they can get all of the relics. Boy has a secret that Secundus guesses, and this motivates him to get Secundus to Rome so that he himself might be helped.
Strengths
: There are good details about the medieval time period and information about pilgrimages and the religious ideas of the time. The E ARC did not include pictures, but the cover is lovely.
Weaknesses
: Like Adam Gidwitz's
The Inquisitor's Tale,
this is a fantasy book and not strictly historical fiction. The 7th grade covers the middle ages, and I do have students ask for books on the topic, but I can't get anyone to check out the Gidwitz title.
What I really think
: I will pass on purchase and stick to Cushman and Avi for realistic titles on this time period. The fantasy element makes this less than useful for my library.
A great companion to this book would be the upcoming
The Thrifty Guide to the Medieval World
, which is coming out at some point.
Stokes, Jonathan W.
The Thrifty Guide to Ancient Rome
Illustrated by David Sossella
January 30th 2018 by Viking Books for Young Readers
Copy provided by the publishers
Like
The Thrifty Guide to the American Revolution
, this guide is purportedly for the many time travelers around in 2150, after time travel devices become widespread, and the devastation of their messing about in history is addressed by Time Patrols. In this future world, Time Corps rules much of North America, and it's head, Finn Greenquill, is not above using time travel for his own personal gain.
This book does a little better job of giving an overview of daily life in Rome, although it is still insistent that Rome is a very dangerous place. In fact, the first chapter starts with the different sorts of dangers, including fire, flood and disease that you would face in Ancient Rome. Fashion, food, and entertainment are briefly covered before chapters on surviving different military actions occur. Because the span of years this book covers is much greater than that in the American Revolution, it is somewhat less helpful to time travelers, but is written with more wit. The chapter on Cleopatra and all of her political and romantic alliances is done in as delicate way a way as possible, although the topic of marrying relatives is certainly not avoided. "Mad" rulers also pose a problem to time travelers.
Roman history in schools certainly covers more of the political and military issues than the intricacies of daily life, so this book is very helpful to social studies teachers and students who want to know more about this fascinating time period. That said, as a former Latin teacher, I do wish that more coverage were given to daily life, social mores, and general details of how people lived, not whom they fought!
There were a few statements that seemed half a bubble off, but the general research seems okay. It is a shame that Stokes doesn't seem to have look at
The Private Life of the Romans
by Harold Whetstone Johnson and Mary Johnston (1932), because it is an absolute treasure trove of information about so many aspects of Roman daily life. Also, if you are teaching Roman history, you absolutely have to make time in your schedule for the informative and yet now-giggle-worthy 1965 Britannica film,
Claudius, a Boy of Rome
. I adore this one more than words can say and still cry at Vistus' fate. Every. Single. Time.