It's
Marvelous Middle Grade Monday at Ramblings of a Wannabe Scribe
and
What Are You Reading? d
ay
at
Teach Mentor Texts
and
Unleashing Readers.
It's also
Nonfiction Monday
.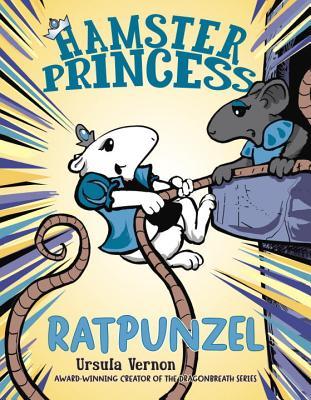 Vernon, Ursula. Ratpunzel: Hamster Princess #3
October 18th 2016 by Dial Books
E ARC from Edelweiss Above the Treeline
Harriet stops by her house, but after her mother tries to wash her face, and her father wants to go to tea, she decides that adventuring is a far better plan. Hopping on her battle quail, she takes off, running into her friend Prince Wilbur. His pet, Heady the hydra has had her egg stolen, and she is distraught. The two strongly suspect that a friend of Wilbur's mother, Gothel, has stolen the egg, and the head off into a scary forest (in The Kingdom of Sunshine) to find her. When there, they see trees carved like people and a giant tower with Ratpunzel in it. Sure enough, she is being held captive by Gothel, who has also stolen the egg. It's difficult to get both the egg and the princess out of the tower and scary forest, but Harriet is up to the task.
Strengths: If you haven't read these, go grab Harriet the Invincible and Of Mice and Magic right now. They are just hysterically funny on SO many levels. Are they appropriate for middle school students? Well, I'm sure the ATOS level is low, and parents would complain that kids are reading comics that are below their level, but yes. Yes, these are great books to have in a middle school library for all of the children who are tired of dealing with middle school and need some light reading. So is the Princess in Black series.
Weaknesses: Paper over board bindings don't hold up to the heavy use these books get.
What I really think: If parents complain, have students check out this author's Castle Hangnail, too. A bit longer and more substance. Then ask what the book the parent read last. War and Peace? Or some Danielle Steele? I don't get why we have to push students to read tough, depressing books all the time when we don't read that sort of thing as adults.
Editors of Sports Illustrated for Kids. My First Book of Hockey: A Rookie Book: Mostly Everything Explained About the Game
September 20th 2016 by Sports Illustrated
Copy provided by Blue Slip Media
Like
My First Book of Baseball
, this is a good overview of the sport for the youngest readers. Terms, plays and equipment are explained in simple language with a mix of photographs of actual players and cartoon-style font and characters. Not only is this a good format for younger students who are learning about the sport for the first time, it is a great way for English Language Learners to be introduced to a sport.
The explanations of how the game is played are accompanied by diagrams that show the field and a variety of tactics. For parents or older readers, the jokes in the asides will enliven things as well. I was glad to finally find out exactly what a "hat trick" is, although I'm still in the dark as to WHY people throw their hats on the rink after a player's third goal!
These are a must for elementary school libraries and a great way to hook reluctant or struggling readers in the middle school.