It's
Marvelous Middle Grade Monday at Ramblings of a Wannabe Scribe
and
What Are You Reading? d
ay
at
Teach Mentor Texts
and
Unleashing Readers.
It's also
Nonfiction Monday
.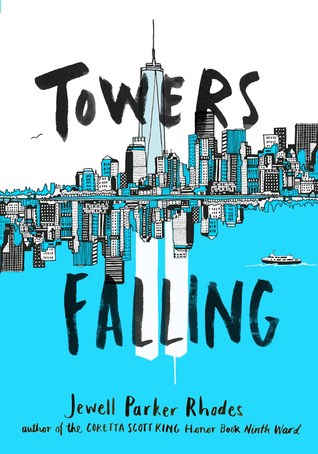 Rhodes, Jewell Parker. Towers Falling.
July 12th 2016 by Little, Brown BFYR
E ARC from Edelweiss Above the Treeline
Déja is living with her family in a homeless shelter in Brooklyn. Her mother is working, but her father is ill and unable to hold a job or even get out of bed some days.
Déja needs to take care ofsiblings Raymond and Leda as well as go to a new school and understand her new classmates. The school is better than her previous one, but
Déja doesn't care too much for the writing assignments-- she didn't have a summer vacation, and "home" is a difficult concept. She does make friends with Ben, who has moved to NYC from Arizona with his mother after his parents' divorce, and Sabeen, who tries very hard to befriend her. Sabeen's family is from Turkey, and she wears a head scarf, so when the class starts to study the events of 9/11, there's a lot of discussion about what it has meant for Sabeen's family to be Muslim.
Déja's father gets very upset when he finds out that the school is teaching about 9/11. He feels
Déja is too young to know about it, but his real reason is that he was at work at one of the towers, and has post traumatic stress disorder as the result of his experience. After she and Ben visit the 9/11 Memorial by themselves, her father finally talks to her about his experiences, and she is able to understand his experience, as well as her family's situation, a bit better.
There are many books about Hurricane Katrina, but surprisingly few about 9/11. This is a topic that has been covered every year in my school, and Towers Falling is a great introduction to the event for middle grade readers who were not alive in 2001. It covers the basics with a delicate touch, balancing the horrors against the sensibilities of younger readers. The multicultural students are realistic and much appreciated, and the economic diversity shown in
Déja's family is also one that needs more coverage in middle grade literature.
This is a good book to include in any elementary or middle school collection, along with Cerra's excellent Just a Drop of Water, Tarshis' I Survived the Terrorist Attacks of 9/11, Mills All We Have Left, Baskin's Nine, Ten, and Brown's nonfiction America is Under Attack.