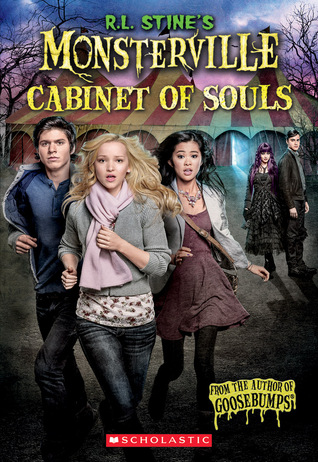 Stine, R. L. Cabinet of Souls (Monsterville)
July 26th 2016 by Scholastic Inc.
Copy provided by Young Adult Books Central
Kellen is kind of shy, but really likes Beth. When the two go to the carnival in their town with friends Nicole and Luke, things start to get very weird. Dr. Hysteria approaches them to come to his Hall of Horrors, and the group thinks it will be a hoot. Beth soon learns that things are more serious than they appear. Kellen is entranced by Dr. Hysteria's assistant, Lilith, and Luke thinks that the showman will give him a chance to get exposure for his comedy routine, but there is evil lurking within the fun house walls. When Beth stumbles upon a Cabinet of Souls but manages to escape, she realizes that her friends' lives are in jeopardy and that Dr. Hysteria is a real threat that must be stopped.
This book is based on the screen play of the movie by the same title, and is an excellent example of what Stine does best-- he mixes things that seem scary but are not a likely threat (zombies, vampires) with moments of terror, like the rows of missing children whose souls are being sucked dry by Dr. Hysteria. His Goosebumps books are ones that children can read and choose whether or not they wish to be scared by them!
The other element that Stine injects well (and is used to good effect in this book even though Stine is the inspiration and not the author) is romance. Often, the situations in the book worsen because of drama involving relationships. Here, Kellen's crush on Beth makes him take the threat of Lilith less seriously, since he thinks she is just being jealous. At the same time, Kellen assumes that the dark and brooding Hunter is a huge threat before he even knows anything about the boy, just because Beth seems attracted to him.
There are full color movie stills in the center of the book, making it a great movie tie-in for readers who have managed to catch either the movie or who are long time fans of the many different video incarnations of Stine's work.
Reminiscent of other evil carnival books ranging from Bradbury's Something Wicked This Way Comes to Shusterman's Full Tilt, Cabinet of Souls is a harmless romp that is mildly scary... or a blood chilling look into an evil mastermind determined to live forever by robbing the young of their souls... and he may come next for YOU!