Hofmeyr, David.
Stone Rider
July 14th 2015 by Delacorte Press
ARC from Baker and Taylor
In a horrible, arid futuristic dystopia where the only choices seem to be working in the mines or riding in treacherous byke races, Adam Stone tries to survive. His parents are dead, and only his older brother Frank is around to help him. Frank is missing a leg, and Adam has a tendency to black out, but when Adam meets fellow rider Kane, who seems to need help, the two offer Kane shelter and some of their meager food supplies. But Adam has angered the wrong people, and soon his only option is to enter the Blackwater race and hope to win passage to the Sky-Base, where living conditions are not quite so bad. He befriends a very young rider, Nate, and finds that two of the children, Sadie and Wyatt,of a tyrannical commander who is charge of the race are also on the course. Adam thinks that the only way to survive is to be by himself, but quickly comes to rely on the help of Kane, as well as Sadie. When surprising information about his fellow racers is revealed, will this help or hurt his efforts in the race?
Strengths
: This has a LOT of action and adventure, and is a great choice for readers who enjoy Earth based dystopias. The byke racing is full of pulse pounding twists and turns, and there are evil characters aplenty that made me root for Adam's survival.
Weakneses
: The lack of world building moved teh story along quickly for me at first because I wanted to find out WHY there were limited choices, what had happened to the environment, who built Sky-Base, etc. Then, in the middle of the race, Adam and Sadie take a break, have a little fling, and I lost interest. This is really more YA. There are several rather gruesome deaths, the fling, and a lot of person-on-person violence. While there is nothing immediately objectionable that would keep it out of middle school, I can see younger readers being upset by it.
What I really think
: Fantastic book... for high school. Think I will pass on purchase, but definitely will pass on my ARC to a freshman I know!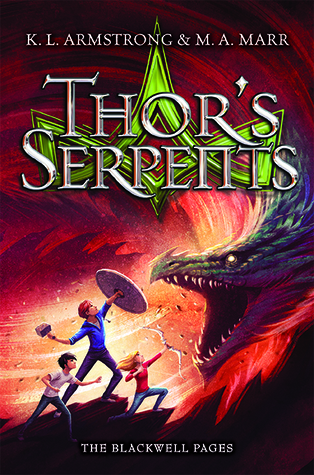 K.L. Armstrong, M.A. Marr.
Thor's Serpents (The Blackwell Pages #3)
May 19th 2015 by Little, Brown Books for Young Readers
In this third and final book following
Loki's Wolves
and
Odin's Ravens
, Matt and his compatriots have to figure out a number of details about Ragnarok. Fen is stuck with the Raiders, who think that the end of the world will be a good thing. Laurie is upset, since Fen is the other representative of their ancestor, Loki, and she doesn't like being on opposite sides on the conflict. Matt, Owen, Baldwin et al. go to Rapid City to consult the Norns. After battling the mara (nightmares) in a museum., the Norns tell Matt that when the mythical rooster Gullinkambi crows, they must go to the battlefield, and someone in his family knows where that will be. They travel back to Blackwell via a portal where the group gets in touch with various family memebers to try to figure things out, but then they are battleing a fire giant, Jotunn, who is determined to burn down the Corn Palace! Luckily, Matt has some skills that help. There are other problems, though, including one descendant who isn't quite who the group thought she was. Matt finally locates his long lost Uncle Pete, who is a help, but it's still up to Matt to figure out what to do. Participate in Ragnarok and hope for the best, or try to find a way to make it not happen?
Strengths:
There are several twists, which I don't want to give away, and the ending is not as sewn up as it is in many books. I was glad that Laurie finally had magic portals through which to transport people; saves all that weary tromping around. The mythology is nicely tied in to today's world in an innovative way, and I liked how that local landmarks are brought into the conflict.
Weaknesses
: Like many fantasy books, I had to take notes to keep everything straight!
What I really think:
Good covers, short series, mythology and action. Very well done. Glad to have the whole series.