The #WeNeedDiverseBooks movement has gotten a lot of attention, but lately I've been seeing tweets saying that book lists for children should just automatically include diverse titles but not necessarily put them on separate lists. True, to a certain extent. The book below, for example, should be included on Dystopian lists. However, I think it's still important to put together lists of books with African American or Hispanic characters, lists of books with characters with health or medical issues, etc. because I do have students ask specifically for books like that. Just as I have lists of survival stories or spy thrillers, I will continue to put together lists by ethnic subgroups; thanks to #WeNeedDiverseBooks, hopefully these lists will get longer.
Today, we have a dystopian book that also includes Hawaiian culture and a character with epilepsy.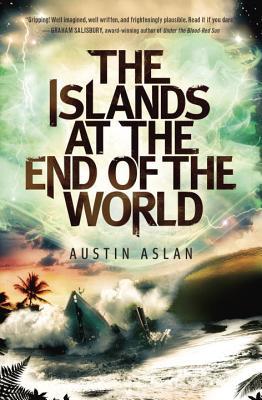 Aslan, Austin.
The Islands at the End of the World
August 5th 2014 by Wendy Lamb Books
ARC from Baker and Taylor
Leilani has lived on the Big Island of Hawaii, near Hilo, for three years. Her father is not native to the island, but her mother is, and her grandfather is very interested in Hawaiian culture. Leilani loves to surf, but her epilepsy has been problematic. Her father takes her to Honolulu to a clinic where she will undergo a medical trial to see if a new medication will help control her seizures better. While she and her father are there, a power outage takes out everything-- electricty, phone, and even some machinery. The trial is canceled, which makes Lei nervous because she has been off of her regular medication. The outage seems to be caused by green clouds of light in the sky, but no one can figure out what they are. After several days without any progress, Lei's father gets antsy and wants to try to get home. The two set out on a dangerous trip that involves run ins with the military, a commune, and a lot of adventure. Lei starts to realize what is causing the problem, and also realizes that her medical condition gives her unique insight into it that may help her solve the issue.
Strengths
: This has some really good twists in it, and I hate to give those away. There is a lot of interesting information about Hawaiian life, the climate of the islands, and even some mythology that is fresh and innovative. Leilani's epilepsy is woven into the story in an interesting way. This is the first book in a series, which makes me happy because I have one reader who only likes Dystopian novels written in first person.
Weaknesses
:The explanation of the origin and purpose of the green clouds seemed a bit weird and far-fetched to me, but then I'm not a huge fantasy fan. The big draw for this book will be the action and survival portion of it.